Low-Calorie Halo Top Ice Cream Has Proved Hot Sales Item
Scooping Market
Friday, May 26, 2017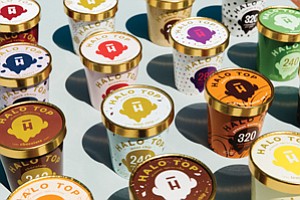 Woolverton was among those consumers fueling that trend. Halo Top was born out of his desire to find a treat for himself with low sugar.
He was working in Los Angeles as an attorney for Latham & Watkins when he began experimenting in 2010 with a mix of milk, cream, the sugar alcohol erythritol, sugar substitute stevia, and eggs, among other ingredients. He initially just made the mix and put it in the freezer. After creating it in an ice-cream maker, he said that he realized the mix's true potential.
"That was the eureka moment," Woolverton said.
He had no experience or background in ice ice cream or any kind of consumer packaged goods, but was burned out on being a lawyer. He treated development of the treat as a hobby and relished figuring it out more or less on his own, reading books and talking to some ingredient suppliers, Woolverton said. He spent a year tinkering with the recipe that would be made on an industrial scale at a co-packing facility.
Today, Halo Top is made and packaged in eight such facilities across the country, where it is put into cold storage and then transferred to retailers by a distributor.
Ice-cream companies using co-packers can expect a net profit of around 10 percent, said Michel Algazi, chief executive of consultancy Food Centricity. Margins for those that operate their own manufacturing facilities are higher.
Because its upfront costs were high and it had not yet reached an economy of scale, Eden initially sold its pints almost at cost, Woolverton said. He went $300,000 into debt and raised $1.5 million from friends and family.
The company sold almost $400,000 worth of equity in 2015 with the help of San Francisco registered broker-dealer CircleUp Network Inc., according to filings with the Securities and Exchange Commission. CircleUp has helped early stage companies including Petaluma's Three Twins Ice Cream secure funding, according to CircleUp's website. A representative from the firm wasn't available for comment.
Woolverton, who said he still has a majority stake and 100 percent voting power at Eden, declined to say who else owns equity in the company or how much has been sold.
The company's employees work largely from home, meeting once or twice a week at a co-working space, a business model that consultant Algazi said can reduce overhead.
"It makes complete sense, especially if they're selling nationally," he said. "You need to have a spread-out workforce."
For reprint and licensing requests for this article, CLICK HERE.