Low-Calorie Halo Top Ice Cream Has Proved Hot Sales Item
Scooping Market
Friday, May 26, 2017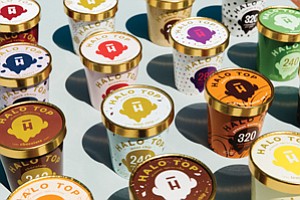 Energized by a recent deal to place its pints in Wal-Mart's freezers, Eden Creamery is stepping up its advertising game to grab a bigger piece of the growing alternative ice-cream market.
As consumers look for healthier versions of traditional ice cream, the company's low-sugar, high-protein Halo Top brand has proved popular. Eden, whose pints retail nationwide for about $5 at Wal-Mart Stores Inc., Target Corp. and Whole Foods Market Inc. stores, had previously advertised exclusively on social media, said founder and Chief Executive Justin Woolverton.
"We really are in almost every grocery store in the nation," said Woolverton, 37. "Now we can do national ads."
The Los Feliz company last week kicked off a Willy Wonka-style campaign, planting tickets for various prizes under five cartons across the country as part of its new marketing push, which also includes ads on streaming services Pandora Media Inc. and Spotify.
Woolverton declined to share revenue figures but said the company sold 17 million pints in 2016, compared with fewer than 1 million a year earlier. At about $5 a pint, that amounts to about $85 million in retail sales last year.
Market research firm IRI estimated $105 million in retail sales of Halo Top of ice cream in the year ended April 16, based on bar-code data provided by retailers with which IRI has agreements. That was out of more than $6 billion for all ice cream sold in the United States.
Eden, which has about 60 full-time employees, all of whom work remotely, built its brand by capitalizing on health trends and social media. Now Woolverton wants to reach a larger audience.
"We're an upstart company, so people don't know about us," he said. "But the people who do know us, our fans, are evangelical. We didn't need brand awareness because our fans buy so much Halo Top at a time."
Shifting tastes
The sales growth of Halo Top has come as activity in the segment has declined overall. The drop – ice-cream sales decreased almost 18 percent to $8.3 billion last year from $10.1 billion in 2007, according to market research firm IbisWorld Inc. – has been fed by consumers shifting to healthier versions of the dessert. Sales of low- and nonfat ice cream accounted for nearly 10 percent of segment sales last year.
"Alternative ice cream is experiencing skyrocketing growth, especially compared to big brands like Nestlé," according to Dewey Warner, an analyst at Euromonitor International. "At the same time, they still represent a relatively small part of the market. They're expected to grow at a fast rate over the next few years."
Woolverton was among those consumers fueling that trend. Halo Top was born out of his desire to find a treat for himself with low sugar.
He was working in Los Angeles as an attorney for Latham & Watkins when he began experimenting in 2010 with a mix of milk, cream, the sugar alcohol erythritol, sugar substitute stevia, and eggs, among other ingredients. He initially just made the mix and put it in the freezer. After creating it in an ice-cream maker, he said that he realized the mix's true potential.
"That was the eureka moment," Woolverton said.
He had no experience or background in ice ice cream or any kind of consumer packaged goods, but was burned out on being a lawyer. He treated development of the treat as a hobby and relished figuring it out more or less on his own, reading books and talking to some ingredient suppliers, Woolverton said. He spent a year tinkering with the recipe that would be made on an industrial scale at a co-packing facility.
Today, Halo Top is made and packaged in eight such facilities across the country, where it is put into cold storage and then transferred to retailers by a distributor.
Ice-cream companies using co-packers can expect a net profit of around 10 percent, said Michel Algazi, chief executive of consultancy Food Centricity. Margins for those that operate their own manufacturing facilities are higher.
Because its upfront costs were high and it had not yet reached an economy of scale, Eden initially sold its pints almost at cost, Woolverton said. He went $300,000 into debt and raised $1.5 million from friends and family.
The company sold almost $400,000 worth of equity in 2015 with the help of San Francisco registered broker-dealer CircleUp Network Inc., according to filings with the Securities and Exchange Commission. CircleUp has helped early stage companies including Petaluma's Three Twins Ice Cream secure funding, according to CircleUp's website. A representative from the firm wasn't available for comment.
Woolverton, who said he still has a majority stake and 100 percent voting power at Eden, declined to say who else owns equity in the company or how much has been sold.
The company's employees work largely from home, meeting once or twice a week at a co-working space, a business model that consultant Algazi said can reduce overhead.
"It makes complete sense, especially if they're selling nationally," he said. "You need to have a spread-out workforce."
With its manufacturing outsourced, Eden's marketing team comprises a large part of Eden's workforce. As with the company's earlier online advertising, the new marketing campaign is being done all in-house.
Cherry on top
Ice-cream giants have taken notice of the success of companies such as Eden, said Euromonitor's Warner.
"Big manufacturers see a growing threat on the horizon, which is why you see them buying up small startups," he said.
Nestlé, which owns Haagen-Dazs and Dreyer's ice-cream brands, has a market share of 21.6 percent, according to Ibis, and Unilever boosted its market share to 21.5 percent in part by buying Talenti Gelato e Sorbetto in 2014 and Ben and Jerry's Homemade Inc. for more than $2.5 billion in 2000.
Eden's Halo Top has gotten attention as well, at least in supermarket freezers.
Eric Cusimano, global category manager at Whole Foods, said in an email that the grocery chain started selling Halo Top in 2013 in part because of its nutrition credentials. He credited the brand's success with helping create a new ice-cream segment.
"Halo Top resonates with Whole Foods Market shoppers because they're not only making a great-tasting ice cream, but they're also hitting several nutritional notes – high protein, low calorie, low sugar and low fat – while still meeting our quality standards of no artificial colors, flavors, or preservatives," Cusimano said.
On the other hand, Doug Frank, general manager at Rainbow Acres Natural Foods in West Los Angeles, said in an email that sales of Halo Top at the store had declined by about 40 percent from their peak and were being surpassed by other brands.
"They may have migrated from natural to mass market," he said.
Woolverton said he expects Halo Top sales to increase tenfold this year. The company is outgrowing its co-packers, meaning Eden likely will have to find its own factory and office space.
"I'm excited to see where we are once we raise our brand awareness," Woolverton said.
For reprint and licensing requests for this article, CLICK HERE.