Low-Calorie Halo Top Ice Cream Has Proved Hot Sales Item
Scooping Market
Friday, May 26, 2017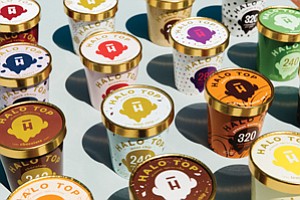 Energized by a recent deal to place its pints in Wal-Mart's freezers, Eden Creamery is stepping up its advertising game to grab a bigger piece of the growing alternative ice-cream market.
As consumers look for healthier versions of traditional ice cream, the company's low-sugar, high-protein Halo Top brand has proved popular. Eden, whose pints retail nationwide for about $5 at Wal-Mart Stores Inc., Target Corp. and Whole Foods Market Inc. stores, had previously advertised exclusively on social media, said founder and Chief Executive Justin Woolverton.
"We really are in almost every grocery store in the nation," said Woolverton, 37. "Now we can do national ads."
The Los Feliz company last week kicked off a Willy Wonka-style campaign, planting tickets for various prizes under five cartons across the country as part of its new marketing push, which also includes ads on streaming services Pandora Media Inc. and Spotify.
Woolverton declined to share revenue figures but said the company sold 17 million pints in 2016, compared with fewer than 1 million a year earlier. At about $5 a pint, that amounts to about $85 million in retail sales last year.
Market research firm IRI estimated $105 million in retail sales of Halo Top of ice cream in the year ended April 16, based on bar-code data provided by retailers with which IRI has agreements. That was out of more than $6 billion for all ice cream sold in the United States.
Eden, which has about 60 full-time employees, all of whom work remotely, built its brand by capitalizing on health trends and social media. Now Woolverton wants to reach a larger audience.
"We're an upstart company, so people don't know about us," he said. "But the people who do know us, our fans, are evangelical. We didn't need brand awareness because our fans buy so much Halo Top at a time."
Shifting tastes
The sales growth of Halo Top has come as activity in the segment has declined overall. The drop – ice-cream sales decreased almost 18 percent to $8.3 billion last year from $10.1 billion in 2007, according to market research firm IbisWorld Inc. – has been fed by consumers shifting to healthier versions of the dessert. Sales of low- and nonfat ice cream accounted for nearly 10 percent of segment sales last year.
"Alternative ice cream is experiencing skyrocketing growth, especially compared to big brands like Nestlé," according to Dewey Warner, an analyst at Euromonitor International. "At the same time, they still represent a relatively small part of the market. They're expected to grow at a fast rate over the next few years."
Prev Next
For reprint and licensing requests for this article, CLICK HERE.