Bartending Machine Serves Up Spirited Presence
ALCOHOL: Somabar looks to button up drink orders at range of establishments.
Friday, May 26, 2017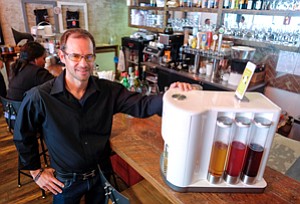 For everyone who has struggled to get a bartender's attention – and who hasn't – Somabar Inc. has a plan to ease your pain.
The Westwood firm launched a pilot program earlier this month for its commercial-grade cocktail machine at Westwood's House of Meatballs. The company is ramping up production runs in Shenzhen, China, and getting ready to take preorders from eateries.
"It's the simplest way for you to have professional bartending drinks and you don't need to know a damn thing about mixology," said Christopher Hameetman, Somabar's president, who co-founded the business with Chief Executive Dylan Purcell-Lowe. "Put a glass underneath, press a button, it pours in five to seven seconds."
Named after the hallucinogenic drug soma from the novel "A Brave New World," Somabar's Keurig-like contraption for cocktails started preselling units for $499 on Kickstarter in 2014, taking about 2,000 orders. But the co-founders have opted since then to focus their attention on selling to restaurants rather than individual consumers. The company has received outside capital from 20 investors, according to Hameetman; raising about $1.9 million in total, according to Crunchbase.
To meet commercial standards, the company started using industrial grade pumps, bacteria-resistant piping, and rewired electronics in its products. Those upgrades lengthen each machine's lifecycle to about 100,000 drinks, according to Hameetman, enough to last for years at a moderately busy venue. The improvements will raise the machine's price tag, though an exact number has yet to be decided. However, he said the cost should amount to less than the hourly wage of a bartender over a machine's lifetime.
"We are going to be, (compared) to the equivalent of a bartender, pennies an hour," he said.
Other cocktail-making machines on the market are priced above $4,000 and rigged with tubes that need to be inserted into various liquor bottles.
Somabar has avoided that by outfitting each machine with six detachable clear-plastic pods to store various spirits and ingredients, such as grenadine or club soda. A smaller pod for bitters is stored in the back. The equipment is preloaded with 300 drink recipes from the International Bartenders Association.
Expanded menu
Gennaro Morra, proprietor of House of Meatballs, said he has been testing the Somabar machine in his Gayley Avenue restaurant since May 4 and has quickly taken to the equipment.
"What I like about it is one button, one push, and you get what you want," he said. "It doesn't require much training. I have just regular young kids as waiters and they find it very efficient."
House of Meatballs fits the profile of Somabar's target customer. Licensed only to sell beer and wine, the restaurant did not serve cocktails prior to installing the machine. Because Somabar's product can mix drinks using hard alcohol stand-ins, such as agave wine instead of tequila for margaritas, the restaurant has been able to expand its drink menu to include five cocktails made with fermented alcohols rather than distilled spirits.
"What these things are really are session cocktails," Hameetman said. "You can have a couple over lunch and not be completely wasted."
Morra said his restaurant serves between 15 to 20 drinks from the machine a day and nearly all reviews have been positive. Particularly popular with younger customers and female patrons, drinks from the machine have boosted total sales without cannibalizing beer or wine orders, he added.
Somabar also plans to sell its machines to hotels as substitutes for minibars. As part of a pilot program, the company is installing an undisclosed number inside rooms at Hilton Hotels Corp.'s Conrad and Waldorf Astoria hotels.
Hameetman said he envisions the cocktail machine being used by restaurants and hotels to gin up custom-drink menus.
"Hilton can craft a special cocktail, and we can upload that to all their machines; every machine will pour that drink the same way," he said. "You can have branded drinks."
But bartenders are more than just drink pourers and some proprietors would be reluctant to dump trained waiting staff for a machine.
"I like the interaction between staff and customers at my places and think it enhances the experience for the customer," Ken Kaufman, owner of Culver City's Kaufman Restaurant Group, parent of City Tavern and Rush Street, said in an email.
A Somabar machine is best suited for making simple well drinks, such as a Manhattan, Old Fashioned, or Screwdriver, Hameetman said.
"If you want a drink with a celery stick sticking out of it, and bacon, sprinkled with Tabasco sauce, cinnamon, and nutmeg, and whatever else, a bartender cannot be replaced for those highly labor-intensive cocktails," he said. "I don't want to get in a fistfight with a bartender. There are a lot of things a human bartender can do that this cannot."
For reprint and licensing requests for this article, CLICK HERE.