LABJ Icons: Patrick Soon-Shiong Plans Cancer Center; Peter Lowy Maps Westfield Growth
Wednesday, May 24, 2017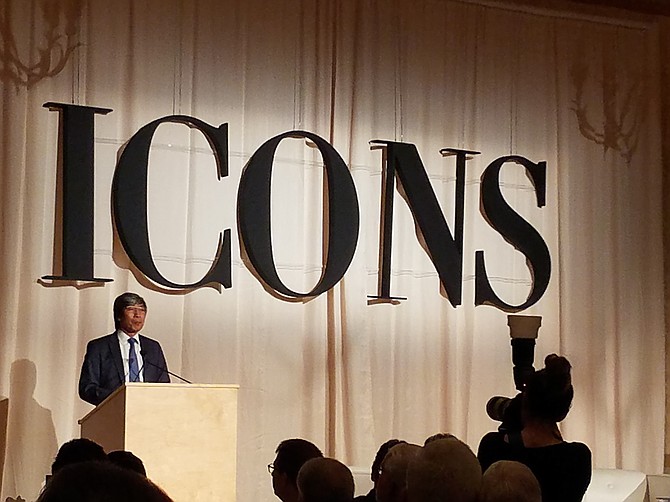 Biotech billionaire Patrick Soon-Shiong plans to open an L.A. cancer treatment center this summer, he said Wednesday during the Business Journal's Icons event at Montage Beverly Hills.
Soon-Shiong, chief executive of Culver City's NantWorks, an umbrella company for cancer research and health firms, said he had kept the news under wraps because of the amount of demand that's anticipated.
"We have a great basketball team in the Lakers, we have a great newspaper in the L.A. Times — I'm trying with both," said Soon-Shiong, who has ownership stakes in the sports team and the newspaper's parent company, tronc Inc. "What we don't have is a great cancer center."
Soon-Shiong, who with a net worth of $18 billion is the wealthiest person in Los Angeles, joined four other L.A. business leaders at the invitation-only event.
Peter Lowy, co-chief executive of Westfield Corp., confirmed that Amazon.com is opening a store in the Westfield Century City mall, as the Business Journal reported last week, which is undergoing a major renovation. Amazon plans to open more stores at Westfield locations, he said. Amazon opened its first brick-and-mortar store in Seattle in 2015.

"They came to us because of the assets we're building," Lowy said.
Lowy may be getting another tenant in supermodel Tyra Banks, who said at the Wednesday event that she is developing an experiential concept based on her personal brand. Banks said she has plans to meet with Lowy's team to discuss the concept, which she wants to help cement her legacy.
"What I'd love is 30 years from now, some young girl will be at a Westfield mall - or a competitor of Westfield, if that meeting doesn't go well - and be experiencing a wonderful experience, feeling so beautiful because of what I and my team have created," said Banks. "She doesn't know who Tyra is, and she doesn't care. But her mother and grandmother do."
Caroline Anderson is a staff reporter covering retail, restaurants, and hospitality. She can be reached at canderson@labusinessjournal.com.
For reprint and licensing requests for this article, CLICK HERE.