Real Office Centers, Co-Working Tenants Evicted from Santa Monica Office
Tuesday, May 23, 2017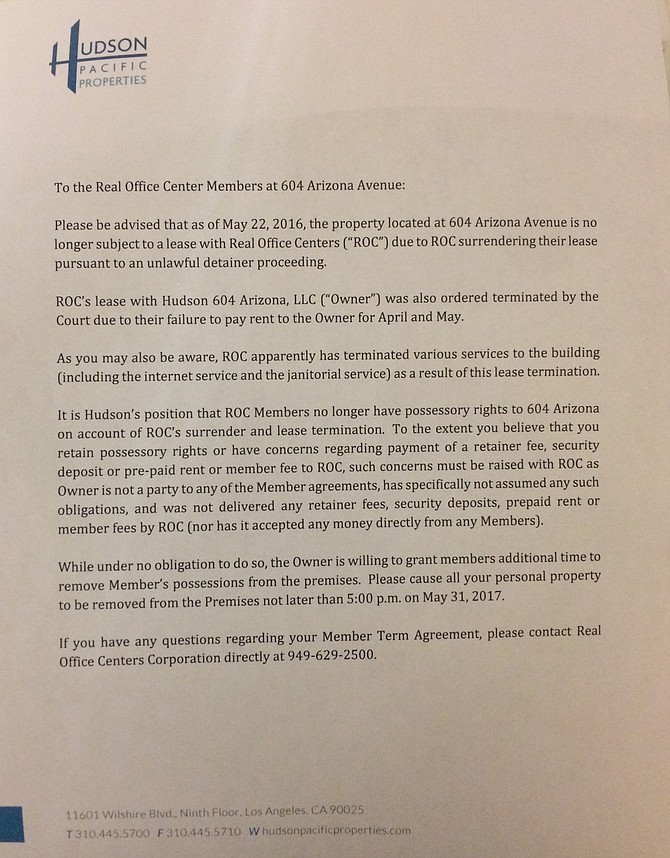 Real Office Centers and its co-working tenants at a Santa Monica building received an eviction notice Monday from their landlord, Hudson Pacific, who said the company hadn't paid rent in April and May.
The eviction of Newport Beach-based Real Office Centers from 604 Arizona Ave. came without advance notice, the company said in an email to its tenants. Hudson Pacific disputed that characterization, saying the co-working business knew of a coming court date to settle overdue payment issues.
"It didn't happen overnight," Mark Lammas, chief financial officer of Hudson Pacific, said Tuesday. "They knew the court date was coming in 30 days."
Hudson Pacific said in a letter to the tenants that they would be allowed to collect their things until 5 p.m. May 31. The company said all co-working membership agreements were the responsibility of Real Office Centers.
However, Real Office Centers said in its email that Hudson Pacific was now responsible for the agreements. A receptionist at Real Office Centers said Tuesday the company had no comment on the termination of its lease.
The company in March also pulled out of a 15-year lease for 27,000 square feet at Atlas Capital Group's Row DTLA in downtown's Industrial District. That space was partially built out.
When co-working firm broke its lease at its downtown location, Ron McElroy, its chief executive, called the situation a hiccup and said the business was committed to the L.A. area.
"We had a bit of a glitch with the landlord, and we couldn't resolve our differences," he said.
Real Officer Centers still has a co-working office on Ocean Avenue in Santa Monica, but no accommodations have been made to help resettle about 50 businesses displaced by its Arizona Avenue eviction, tenant Kevan Rayden, co-founder and president of SwipeMarket, said Tuesday. The seven-person video production company had a $4,500 a month lease at the closing co-working office, he said.
"I've tried to call them multiple times. They are not calling back," Rayden said. "I had a production scheduled today that had to be canceled. I had to send all my employees home, and I don't know what do with them."
Editor's note: This story has been updated to include comment from Hudson Pacific and SwipeMarket, along with other details.
For reprint and licensing requests for this article, CLICK HERE.