Colleges Build Up Ranks of Manufacturing
EDUCATION: Workers with midlevel skills in demand.
Friday, May 19, 2017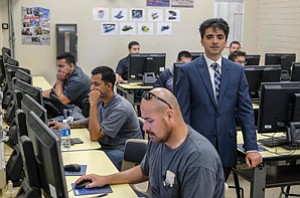 Miodrag Micic, chairman of the engineering design technology program at Cerritos College in Norwalk, is about to send another batch of students out into a rapidly changing manufacturing landscape.
Backed by a state program that this year is making its first $200 million investment in vocational training, the industry is poised to see more workers who are able to meet the widespread tech skill shortage.
"The advanced manufacturing programs at community colleges are designed to create midlevel technologists," said Micic (Mi-chich). "My students fill that space between a regular manufacturing worker but not a full-fledged engineer."
The California Strong Workforce Program is spreading the funding among 113 community colleges statewide to advance technical career training. Los Angeles County schools will receive $46.5 million of the pot in the 2016-17 fiscal year.
While Los Angeles has been losing jobs in manufacturing for several years, there appears to be an increased need for workers in advanced manufacturing sectors, where skilled hires are scarce. The Los Angeles County Economic Development Corp. reported that 13,400 manufacturing jobs left the county from 2014 to 2016. As of March, the county had 357,000 manufacturing jobs, according to the state Employment Development Department.
The studies did not make a distinction between traditional and advanced manufacturing, however.
"We have not yet analyzed the granular data set for 'advanced manufacturing' skills and how those related occupations … are faring within the broader manufacturing super sector. But anecdotally, we are hearing from manufacturers that demand for these workers is strong," Lawren Markle, director of public relations at LAEDC, said via email.
That's the case for Space Exploration Technologies Corp., or SpaceX; Northrop Grumman Corp.; and Allied Systems Corp., all of which Micic said showed up on the Cerritos College campus last week to recruit new employees.
"As part of an effort to ramp up manufacturing at our headquarters in Hawthorne, SpaceX is currently seeking highly skilled production technicians," said Brian Bjelde, the company's vice president of human resources. "Our best source for hiring these technicians remains L.A.'s local community colleges and technical schools."
Manufacturing transformation
Los Angeles was once a major aerospace center, with Boeing Co., Lockheed, and McDonnell Douglas building planes here. NASA's Apollo capsules were built in Downey. Manufacturing employment peaked around 1990, where the county hosted 830,000 jobs in the sector.
The area has had a resurgence of sorts recently, as SpaceX and other rocket and aerospace companies have worked for traction in the competitive private space race. That increase in demand has come as the nature of manufacturing has shifted to include tasks that require technical skill.
Prev Next
For reprint and licensing requests for this article, CLICK HERE.