Colleges Build Up Ranks of Manufacturing
EDUCATION: Workers with midlevel skills in demand.
Friday, May 19, 2017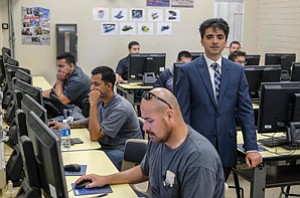 Miodrag Micic, chairman of the engineering design technology program at Cerritos College in Norwalk, is about to send another batch of students out into a rapidly changing manufacturing landscape.
Backed by a state program that this year is making its first $200 million investment in vocational training, the industry is poised to see more workers who are able to meet the widespread tech skill shortage.
"The advanced manufacturing programs at community colleges are designed to create midlevel technologists," said Micic (Mi-chich). "My students fill that space between a regular manufacturing worker but not a full-fledged engineer."
The California Strong Workforce Program is spreading the funding among 113 community colleges statewide to advance technical career training. Los Angeles County schools will receive $46.5 million of the pot in the 2016-17 fiscal year.
While Los Angeles has been losing jobs in manufacturing for several years, there appears to be an increased need for workers in advanced manufacturing sectors, where skilled hires are scarce. The Los Angeles County Economic Development Corp. reported that 13,400 manufacturing jobs left the county from 2014 to 2016. As of March, the county had 357,000 manufacturing jobs, according to the state Employment Development Department.
The studies did not make a distinction between traditional and advanced manufacturing, however.
"We have not yet analyzed the granular data set for 'advanced manufacturing' skills and how those related occupations … are faring within the broader manufacturing super sector. But anecdotally, we are hearing from manufacturers that demand for these workers is strong," Lawren Markle, director of public relations at LAEDC, said via email.
That's the case for Space Exploration Technologies Corp., or SpaceX; Northrop Grumman Corp.; and Allied Systems Corp., all of which Micic said showed up on the Cerritos College campus last week to recruit new employees.
"As part of an effort to ramp up manufacturing at our headquarters in Hawthorne, SpaceX is currently seeking highly skilled production technicians," said Brian Bjelde, the company's vice president of human resources. "Our best source for hiring these technicians remains L.A.'s local community colleges and technical schools."
Manufacturing transformation
Los Angeles was once a major aerospace center, with Boeing Co., Lockheed, and McDonnell Douglas building planes here. NASA's Apollo capsules were built in Downey. Manufacturing employment peaked around 1990, where the county hosted 830,000 jobs in the sector.
The area has had a resurgence of sorts recently, as SpaceX and other rocket and aerospace companies have worked for traction in the competitive private space race. That increase in demand has come as the nature of manufacturing has shifted to include tasks that require technical skill.
Despite the changing high-tech face of the industry, defining advanced manufacturing is still difficult.
"When it comes to an accepted definition of advanced manufacturing and which industries should be included, there is unfortunately no universal consensus," said Robert L. Creighton, research analyst at USC's Center for Economic Development.
The Brookings Institution, a nonprofit public policy organization, defines it loosely as an industry that encompasses the nation's tech sector at its broadest and most consequential. Basically, traditional manufacturing meets technology.
That's where the Strong Workforce Program comes in.
The initiative aims to create 1 million more middle-skill workers with the recurring funding; there is no target date for reaching that benchmark.
"The investment is meant to be one of the ways to address the shortage of an increasingly skilled workforce that's in high demand by a modernizing industry," said Jose Anaya, statewide director of Centers for Applied Competitive Technologies, another advanced manufacturing initiative run by the chancellor's office of the state community college system.
Training new workers
Community colleges have provided many different types of technical training over the years to fit the demand, always changing with the times, said Anaya, whose office is at El Camino College in Torrance.
The county is home to 10 community college districts with 19 colleges, which together have 28 programs to prepare people for advanced manufacturing occupations that can pay from $11.45 to $50 an hour, according to the Strong Workforce Program's L.A. website.
It was that pay scale that attracted Gabriel Gallegos, 25, to the field. With a wife and daughter and another child on the way, Gallegos said he felt confident in his choice to pursue an associate's degree from the engineering design technology program at Cerritos.
After graduating last week, he is ready to start a new job at Montebello's Academy Inc., which manufactures and installs awnings, canopies, cabanas, and other shade structures. He will be drafting designs using computer-assisted programs including AutoCAD, a design tool used to create 2-D and 3-D drawings. His starting pay is $15 an hour with benefits, he said.
"This job is great for me to start out. I wanted to pursue advanced manufacturing because it gives me a chance to create," he said. "I chose this program because I got hands-on training. I want to be prepared for a job and not just an interview."
Juan Jimenez, a design manager at Academy, said he often reaches out to community colleges to recruit for different types of advanced manufacturing jobs.
"I've gone through the community college route myself, and I'm aware of just how skilled and ready students are when they get a technical training degree," Jimenez said. "What's relevant is that the skills taught in these classes now is what's needed for many unfilled positions in manufacturing today."
Micic said programs such as these are a simple and affordable way to be lifted into the middle class. Most of his students are "nontraditional," with part-time jobs and families to care of, he said.
"I don't have a single student that's graduating this year who isn't either already employed or will start a job right after graduation in exactly what they're trained to do," he said.
For reprint and licensing requests for this article, CLICK HERE.