NFL Inglewood Stadium Opening Delayed to 2020
Thursday, May 18, 2017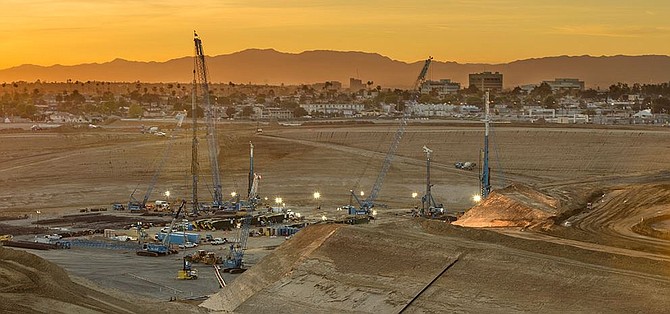 Southern California's heavy rains this year eased the drought but put a damper on the NFL's plans to build a stadium in Inglewood by 2019.
The $2.6 billion project, meant to host the Rams and the Chargers, is now slated for completion in the summer of 2020, the developers said Thursday.
"The rain fell during the mass excavation period of construction when no other work could proceed in wet conditions," the development team, which is spearheaded by Hollywood Park Land Co., Legends Project Development, Turner Construction Co., and Aecom, said in a statement. "As a result, we experienced significant delays and lost the better part of two months from early January into the beginning of March."
Aecom and Turner broke ground on the 300-acre project in November, using hundreds of workers every day at the site. Six million cubic yards have been carted from the site, leaving the stadium bowl area excavated 90 feet deep.
The Rams will continue playing at the Los Angeles Memorial Coliseum in Exposition Park until the stadium is ready in 2020, while the Chargers will play at the StubHub Center in Carson, the developers said.
A.G. Spanos, president of business operations for the Chargers, said he understood that the Inglewood stadium construction could bring about unforeseen challenges.
"If getting it right means pushing back the completion date, then I think the extra year is well worth it," he said in a statement on the Chargers website.
More details about the construction timeline were expected to become available Thursday afternoon following a conference call with Kevin Demoff, chief operating officer for the Rams, and Dale Koger, managing director at Legends.
Real estate reporter Daina Beth Solomon can be reached at dsolomon@labusinessjournal.com. Follow her on Twitter @dainabethcita for the latest in L.A. real estate news.
For reprint and licensing requests for this article, CLICK HERE.