Soon-Shiong Plans Nant IPO
BIOTECH: Venture would roll up several pharma units.
Monday, May 15, 2017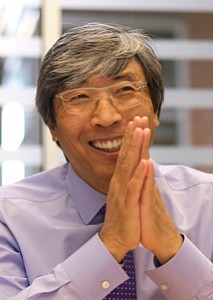 Billionaire cancer physician Patrick Soon-Shiong plans to merge pharmaceutical startups under his NantWorks Inc. umbrella into a single entity called NantBio and take the company public next year.
The new venture, according to Soon-Shiong, is valued at more than $8 billion based on equity investments from Blackstone Group, Celgene Corp., Amgen Inc., and the Kuwait Investment Authority, as well as Soon-Shiong's investment vehicles Nant Capital and California Capital.
The businesses forming NantBio would include NantBioscience, NantOmics, and NantCell. The public companies that grew out of the Culver City-based Nant empire, NantKwest Inc. and NantHealth Inc., would remain separate along with Soon-Shiong's nonpharmaceutical entities: NantMobile, NantStudio, NantCloud, and NantShield.
"We're going to launch NantBio, and it will surprise the country because it will be the most comprehensive immuno-oncology company on the planet," Soon-Shiong said in a recent interview. "We anticipate launching by 2018 maybe six or seven Phase 3 registration trials and taking the company public."
NantBioscience specializes in protein-based drug development, NantOmics focuses on DNA sequencing, and NantCell emphasizes cell-based therapies.
When grouped together, the combined company would have two drugs in Phase 3 trials with the Food and Drug Administration, 21 in Phase 2, and 26 in Phase 1, according to Soon-Shiong. It would also count 63 molecules in the pre-initial new-drug application stage.
Soon-Shiong would take an 85 percent stake in NantBio, which he said was the culmination of 10 years of work to develop the tools necessary "to fully interrogate the human body in real time." The company has yet to submit any filings to the Securities & Exchange Commission or the California secretary of state.
The South Africa native's latest project is part of an ambitious plan to find an effective remedy for cancer and remake the U.S. health care system. If he's unable to accomplish his goals in the next several years, Soon-Shiong said he would leave Los Angeles and try his luck back home in South Africa.
"I've tried to change health care in this country since 2008, and I'm going to try from here until 2020," he said. "If I can't make it work here, I'm going to leave and do it in South Africa."
Rocky year
The value of Soon-Shiong's business empire gives him an estimated net worth of $18 billion, putting him atop the Business Journal's 2017 list of Wealthiest Angelenos. The doctor made his fortune selling pharma firms American Pharmaceutical Partners and Abraxis BioScience in 2008 and 2010, respectively, through which Soon-Shiong pocketed more than $9 billion.
Prev Next
For reprint and licensing requests for this article, CLICK HERE.