Business Rebounds for Furniture Maker Virco as School Budgets Increase
Hard Lessons
Monday, May 15, 2017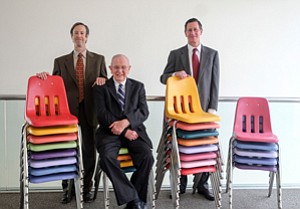 Virco Manufacturing Corp., creator of a patented three-slotted plastic chair atop metal legs, has, like its core product, never strayed from its mission.
The 67-year-old maker of school furniture has seen its fortunes rise and fall with those of the region's school districts, which meant the company took a hit for years through the recession as education funding declined.
But as school district coffers have been replenished as the recovery has taken hold, Virco has rebounded, posting a third consecutive year of revenue and profit growth in 2016.
The company's revenue increased to $173.4 million for the year ended Jan. 31, a 3 percent rise from the $168.6 million it posted the previous year. Net income was up a whopping 500 percent last year, reaching $22.8 million ($1.49 per diluted share) compared with the $4.5 million (30 cents) it recorded in 2015.
"Our revenue aligns pretty closely with school funding," said Doug Virtue, 58, Virco's chief operating officer. "If they're doing well, we're doing well."
Schools in California, Virco's primary market, have seen state funding rise steadily for several years, growing to $88.3 billion in the 2016-17 fiscal year from $70 billion in 2013-14.
It is a marked changed from the hit taken by public education during the Great Recession, a downturn that could not be mitigated by the 2008 passage of Los Angeles Unified School District's Measure Q, which authorized the sale of $7 billion in state bonds to modernize old schools.
"What we didn't expect was the severe economic downturn," said Tom Rubin, a consultant with the school district's oversight committee for construction bond measures. "Disbursement of funds take a long time, but the recession delayed it even more. The assessed value of the bonds also went down during that time."
The effects were felt acutely at Virco, where sales declined from 2008 to 2014.
"We restructured by cutting our staff and downsizing a bit," Virtue said, declining to give specifics.
There are signs the upswing will maintain its momentum for a while. In November, California voters passed Proposition 51, which authorized the state to sell $9 billion in school construction bonds. Voters also approved Proposition 55, which extended a tax on the state's wealthiest residents to provide an estimated $4 billion a year for schools.
LAUSD also has more than $5 billion left to spend from Measure Q, which includes a provision for school furniture spending, Rubin said. It will take at least 1½ years before the district is ready to bid on projects.
Prev Next
For reprint and licensing requests for this article, CLICK HERE.