Shoemaker Comunity Takes Steps to Support Social Responsibility
Sole Focus
Friday, May 5, 2017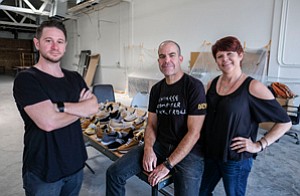 He got his start in the shoe industry in 1989 as a field rep for Nike. He worked at Asics and Vans during the 1990s before founding his own shoe design company, Chimera Design, in 1996. In 2004, he moved on to another shoe company, Circa. He came to Toms in 2006 and would go on to spend eight years as chief shoemaker there.
Toms, known for donating a pair of shoes to a child in need with each pair purchased, had a lasting impact on Scott.
"When I left in 2014 to pursue my own dreams, I didn't know what my next steps were, but eventually I wanted to build a business that did some good for the community," Scott said. "We're not a company that's building a business and then trying to give; we're a giving business."
According to a 2015 Nielsen Global Corporate Sustainability report, companies that are socially conscious are rewarded by consumers. The report found 66 percent of global consumers said they're willing to pay more for brands that are known to give back, up 55 percent from 2014.
"Nowadays this is very much a direction of how businesses are formed, and in some cases, what's happened is that the profits of companies have lined up with social causes," said Anthony Glomski, principal of AG Asset Advisory, a Century City financial advisory firm, who studies business donations and giving.
Toms has been visible about giving back to the community since its inception. According to its website, the company has given away more than 60 million pairs of shoes globally.
The privately held company had revenue of $416 million for the 12 months ending March 31, 2016, according to a report from Moody's last year, but the investor service also downgraded Toms' credit rating because of outstanding debt.
As for competing with Playa Vista-based Toms, Shannon Scott said that "giving companies" are more partners than competition.
"Our mission statement is to start locally and really get a foothold in the Los Angeles area," she said. "Toms is doing a great job with giving overseas, but our focus is on local need."
Toms founder Blake Mycoskie is a supporter of Comunity and contributed to the kickstarter campaign, said Scott, who runs marketing for the new company and worked at Asics for 27 years to become the head of marketing for the Americas there.
Representatives of Toms did not respond to requests for comment.
She said that with each pair of shoes purchased, Comunity will donate $10 to three L.A.-based nonprofits. The co-founders chose Youth Mentoring Connection for education, Street Poets for its arts program, and People Concern to support ending homelessness.
"We're here to play our part in making a difference in people's lives," she said. "We are not in competition with any company, we're an extension of the work that's needed in our own backyard."
Prev Next
For reprint and licensing requests for this article, CLICK HERE.