Investors Still Have Hunger for Meal Replacement
FOOD: Parent company of Soylent piles up $50 million in Series B funding round.
Friday, May 5, 2017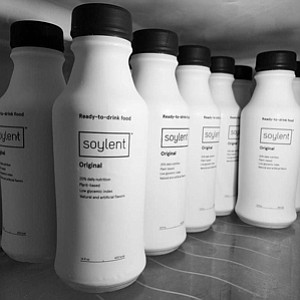 Meal-replacement drink manufacturer Rosa Foods Inc., maker of the Soylent food alternative, has raised a $50 million Series B round led by GV (formerly Google Ventures) with participation from Tao Capital Partners as well as prior investors Lerer Hippeau Ventures and Andreessen Horowitz.
The money will be used to fuel expansion, Rob Rhinehart, chief executive of the downtown company, said in an email.
"This funding will enable us to expand our current product offerings, support our expansion efforts into traditional retail and international territories, and further our goal of bringing Soylent products to people around the world," he wrote.
Soylent is a grey-brown dissolvable powder that claims to be packed with all the essential nutrients a person needs to survive. Its focus on scientifically formulated food has created a passionate customer base within the tech community. Time-pressed engineers are especially fond of the drink, preferring to guzzle their food as a liquid instead of dealing with the hassles of traditional eating. Consequently, the company is also backed by a cohort of tech investors.
The company has had its fair share of hiccups lately, including two product recalls within the last year, one of which came as a result of some customers falling ill. Still, product recalls don't appear to concern recent investors or to have slowed the company's ambitions.
The startup's product line has expanded since launching in 2013 to include bottled Soylent in a fruity flavor, chocolate flavor, and coffee mix as well as a protein bar.
The firm's products are only sold through the company's website and Amazon.com, though it plans to expand to brick-and-mortar retail stores, Rhinehart said.
"We have a series of partnerships in the works, from convenience stores to large distribution outfits, but ultimately we want Soylent in the hands of as many people as possible," he wrote. "Our products should be as easy to buy as a cup of coffee."
Andy Wheeler, GV's general partner, has joined Soylent's board as part of the Series B round. Rosa Foods has received a total of $74.5 million in funding to date.
Expense It
Filing expense reports is the bane of employees and employers alike, but it's a good business for Chrome River Technologies Inc. of Miracle Mile.
The software developer runs an online expense report management system for large corporations and has been quickly growing its sales, according to Alan Rich, its chief executive. The company's revenue neared $30 million in 2016 year, and has grown annually by 30 percent to 40 percent over the last several years, he said.
"The fascinating part of our market is that expense reporting is a business-critical application and, remarkably, the majority of large companies in the world are still using manual processes, either paper or Excel spreadsheets," Rich said. "I think in a few years it will be unheard of that people are doing it the way they are doing it today."
Chrome River focuses on selling its software-as-a-service expense reporting program to large corporations, including Toyota Motor North America Inc., Cargill Inc., and Switzerland's Coca‑Cola distributor. The company claims to have more than 600 customers and 1 million users.
"Travel and entertainment are close to the second or third controllable expense in most companies," Rich said. "Our ability to give management insight into spending on travel and entertainment effectively is critical to (controlling costs)."
Chrome River, founded in 2007, has raised more than $120 million from investors since 2012 including Boston's Great Hill Partners and Bain Capital Ventures of Palo Alto.
Day Labor
Blue-collar job marketplace Work Today raised a $1.1 million seed round from Santa Monica's Mucker Capital and other investors.
The Santa Monica startup has developed an online marketplace for companies to hire, insure, and pay hourly, independently contracted workers to do manual labor. Companies post on Work Today for free and registered workers are notified by text message of jobs based on their skills. The worker can accept or reject jobs by texting back "yes" or "no."
Though a text-based system might seem outdated, it is the best method to engage workers and business, said Joe Nigro, the company's founder and chief executive.
"A lot of these workers don't want to have to download another native OS app. They are not early adopters of technology," he said.
More than 60,000 workers are registered on the platform, Nigro said.
Staff Reporter Garrett Reim can be reached at greim@labusinessjournal.com or (323) 549-5225, ext. 232.
For reprint and licensing requests for this article, CLICK HERE.