Port Regulations May Force Truckers to Sink More Money into Vehicles
Driving Concern
Friday, March 31, 2017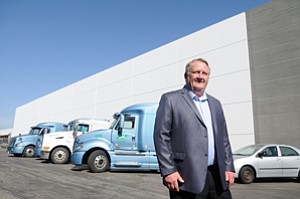 A planned update to a pollution-reduction program at the ports of Los Angeles and Long Beach has some trucking companies concerned they might see another problematic rollout and be forced to buy new trucks yet again.
The draft "discussion document" of the ports' landmark 10-year-old Clean Air Action Plan calls for phasing out older trucks and transitioning to zero-emission vehicles by 2035. The problem, critics say, is that it remains unclear what kind of alternative fuel will be used and whether the new vehicles will service the trucking industry's needs.
Also under the clean trucks program proposal, any truck, regardless of whether it runs on diesel fuel or an alternative such as liquefied natural gas, would be subject to a fee if its engine is 10 years old or older beginning next year.
"Trucking companies may now have to look into replacing their cleaner trucks without even utilizing their full life," said Fred Johring, president of Golden State Express Inc., a trucking company in Rancho Dominguez, and chairman of the Harbor Trucking Association. "The problem I had with the natural gas trucks I got due to the earlier rollout was that they didn't work half the time."
Johring purchased 12 liquefied natural gas trucks in 2012 with the help of $1.2 million in subsidies from the ports, he said. While that was good for the environment, the untested trucks weren't so great for moving cargo.
They often broke down, the cost of maintenance was high, and they struggled to carry large loads, he said.
Golden State Express, which Johring said does around $5 million in sales a year, has 30 contract truck drivers who drive leased trucks. It transports containers within California and to Arizona and Nevada. Even though 80 percent of its cargo is to destinations within 25 miles of the port, the LNG trucks could barely make the trip.
He later sold all of the trucks and replaced them with clean diesel vehicles.
Other trucking companies, he said, started using the natural gas engines early in order to meet the ports' new requirements, and even though many still meet the federal Environmental Protection Agency's 2010 standards, trucking companies are concerned they would have to replace the trucks before receiving enough of a return on their investment.
Heather Tomley, director of environmental planning at the Port of Long Beach, said port officials are aware of the concerns.
"We are considering input from all stakeholders and we want this update to be something we all buy in to as a region," she said.
Clearing air
The CAAP started in November 2006 when the ports jointly approved efforts to improve air quality and reduce health risks in the South Coast Air Basin. The environmentally friendly program was the first of its kind undertaken by a major U.S. port complex.
"The aim of the plan was to reduce air pollution from port-related sources including trucks, ships, trains, terminal equipment, and harbor crafts," said Lee Peterson, spokesman for the Port of Long Beach.
The San Pedro Bay ports generate about 10 percent of the region's smog-forming emissions and are the largest single source of air pollution in Southern California, according to the South Coast Air Quality Management District.
Key to the program was cutting pollution from trucks hauling cargo to and from the ports, which now see 16,000 daily truck trips.
Trucking companies were given a mandate to phase out high-polluting vehicles, and many began using ones that run on LNG. The ports offered subsidies to help the businesses meet the requirements, which by 2012 banned all trucks that didn't meet the 2007 Environmental Protection Agency standards.
"We have reduced diesel emissions from trucks by 97 percent from 2005 to 2015 largely due to the CAAP program," Peterson said of the twin ports.
New rules
But port officials said they need to do more to meet new state and federal regulations.
If the updated clean trucks proposal goes forward, trucking companies and independent contractors that own trucks from engine years 2007 and 2008, even those that run on liquefied natural gas, might have to consider replacing vehicles or be subject to a fee as early as next year.
"We've spent a lot of money in including natural gas trucks in our company," said Juan Alvarez, safety director of Shippers Transport Express, a Carson trucking company.
Shippers Transport Express has 11 LNG trucks in its fleet of 124, all with engines dating to 2010, Alvarez said. Port subsidies of $250,000 each paid for the natural gas vehicles, but maintenance is costly.
Extended life
Alvarez said he wanted to use the trucks for more than a decade, but under the new program he would have to replace them by 2020.
What exactly they would be replaced with is still unclear. He and Johring said they've already been through the difficulty of implementing new but not fully vetted technology when they switched to liquefied natural gas trucks.
The latest iteration of the clean trucks program doesn't address what kind of vehicles that trucking companies will be required to use in the future – only that they must be zero emission.
Long Beach port's Tomley said officials at the facility will weigh the trucking companies' feedback and other public comments that were submitted for the discussion document.
"We are considering proposed adjustments but there are no specifics yet," she said.
An updated draft should be ready in the next couple of months and will be open to more public comments, according to Tomley. A final draft proposal will then go to the L.A. and Long Beach harbor commissions for approval, likely sometime in the fall.
The first piece of the updated trucks program would roll out next year.
For reprint and licensing requests for this article, CLICK HERE.