Trump's Ban On Travel Hits Home in L.A.
TOURISM: Board works to reassure international visitors.
Friday, March 24, 2017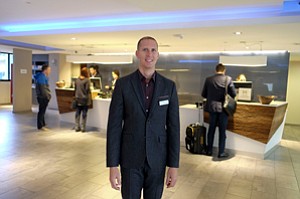 Anticipating a drop in international visitors as a result of President Donald Trump's ban on travel to the United States from six predominantly Muslim countries, the Los Angeles Tourism and Convention Board will roll out a marketing campaign to reinforce the idea that Los Angeles remains a welcoming and safe place for people from any country.
The board, which is the city's official marketing organization, is anticipating a drop of up to 240,000 international visitors this year, a decline of 3 percent to 3.5 percent. The reduction is projected to result in a $220 million loss to the local economy, based on data provided by British industry market research firm Tourism Economics. The projected decrease for each of the following two years is 300,000 visitors.
Because of the strength of the domestic market, however, the board still expects the total number of visitors to grow 1.8 percent to 48.2 million this year from 47.3 million in 2016.
Los Angeles isn't the only U.S. destination concerned about slumping tourism.
Although estimates vary, the industry is generally projecting a decrease across the country this year. Other destinations are launching similar campaigns, such as New York, whose destination marketing organization announced this month that it would spend $3 million on such a marketing plan.
The L.A. campaign, which the tourism board expects to roll out next month, will include paid advertising in certain countries, interviews with the media, and use of the organization's website and social media.
"We're a very diverse, open-minded, and welcoming destination," said Don Skeoch, the board's chief marketing officer. "I think it's important for a lot of international travelers to understand that if they have a negative sentiment about the U.S., that's not necessarily L.A."
Because the board was still finalizing the plans for the campaign last week, not all of the details were available. Skeoch declined to say how much the board plans to spend on the campaign, citing competition.
He said the message would seek to positively affect sentiment toward Los Angeles around the world, not just in countries included in the travel ban, which has been challenged in court.
Given the uncertain status of the ban, the tourism board's projections could change, Skeoch said, adding that it is preparing for the worst.
Embarking on the campaign is wise, said Chris Seek, founder and chief executive of Solimar International, a tourism marketing firm based in Washington, D.C., adding that it ought to generate a strong return on investment.
Prev Next
For reprint and licensing requests for this article, CLICK HERE.