What is Soon-Shiong's Next Step in Fight For Tronc?
Thursday, March 23, 2017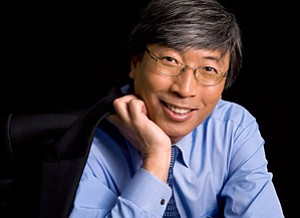 The high-stakes chess match for control of tronc Inc., Chicago parent of the Los Angeles Times, reached a fever pitch this week as biotech billionaire Patrick Soon-Shiong upped his stake with a series of stock acquisitions that appeared to be part of a move for control of the company.
Soon-Shiong's $30 million acquisition of the 5.5 percent stake in tronc held by HG Vora Capital came days after the announcement that he had been maneuvered off tronc's board and out of his vice chairman's seat by Michael Ferro, tronc's largest stakeholder and nonexecutive chairman. For a time, Soon-Shiong and Ferro were essentially on par – each holding just shy of 25 percent of the company's outstanding stock.
Then the goal posts moved.
Oaktree Capital Management said in a March 23 filing with the Securities and Exchange Commission that it would sell its more than 3.7 million shares – a 10.3 percent stake – back to tronc for $56 million, or $15 a share. Oaktree cannot buy tronc shares for two years as part of the deal, according to regulatory filings. The deal also stipulates the private equity firm gets a payout if company ownership changes within a year with stock selling at a higher value. The payout would cover the difference between the $15 a share price paid by tronc March 23 and any premium paid by a new owner.
Oaktree declined to comment on the sale, but its move came as a shock to some.
Long at odds with Ferro, the firm earlier this month sold 950,000 tronc shares to Soon-Shiong in a $13.9 million deal. That came after Oaktree lobbied hard for tronc to accept a buyout last summer from Gannett Co., with the downtown private equity firm threatening a lawsuit when the deal fell apart.
By selling a large chunk of its shares to Soon-Shiong, Oaktree appeared to have given the investor a leg up in his battle with Ferro. But the brash Chicago-based entrepreneur quickly turned the tables, using board control to orchestrate the buyback of Oaktree's remaining tronc stake. He also pushed through an amendment giving his ownership group an option to purchase up to 30 percent of the company's outstanding shares – 5 percent more than Soon-Shiong can control.
In response to the announcement, a spokesman for Soon-Shiong emailed a statement saying the investor was surprised that Ferro had been allowed to increase the amount of stock he could own.
"Dr. Soon-Shiong's attorneys will be writing the company to request his contract also be amended to allow his stake to also be increased to 30 percent from 25 percent," the statement said. "He believes all shareholders should be treated the same."
Which means Soon-Shiong is not done.
Next move
A source familiar with Soon-Shiong's thinking on tronc said it is unlikely the medical doctor and chief executive of Culver City's NantWorks, whose estimated net worth exceeded $15 billion last year, would toss in the towel.
"He has never walked away from issues he thinks are important to the community," the source said. "It's not his style to take up a challenge and then walk away."
Put another way: "It's pretty clear that Patrick has declared war," said Lloyd Greif, chief executive of downtown investment bank Greif & Co. "If I'm Michael Ferro, I'm worried because Patrick is not going to give and he has deep pockets – pockets that Ferro can only dream about."
Through his representatives, Soon-Shiong declined to comment.
What his next move might be was the subject of much speculation this week.
Soon-Shiong has several possible game plans to gain control of tronc, according to observers. His board term is scheduled to end at the annual shareholder meeting on April 18, barring further machinations, and once off he would be free of fiduciary duty to other investors and could wage a proxy war to appoint new directors.
But the timing isn't in his favor. The company's bylaws require board nominations to be submitted a month in advance, and given escalating tensions with Ferro, it's unlikely that he would choose to wait a year, Greif said.
Soon-Shiong's nuclear option could be a hostile takeover, similar to Gannett's bid last year. The maneuver would be an attempt to jump over Ferro and his ownership group, pitching a buyout to other shareholders. This could be accomplished either by offering a premium above the current share price – tronc traded just above $13 a share this week, although deals cut by both Soon-Shiong and the company hit $15 a share – or by arguing that Ferro's management is detrimental to the company, Greif said.
"There's certainly competing visions about the future of the company, and I can't imagine people are standing up cheering what Ferro has done," he said.
Tronc also owns the Chicago Tribune, San Diego Union-Tribune, and Baltimore Sun, among other papers, and the source close to Soon-Shiong said the investor is concerned that the Times, in particular, is in jeopardy of degrading into a "frivolous publication" under the current corporate leadership.
It might be enough for Soon-Shiong to simply threaten a proxy battle or hostile takeover to force Ferro into a deal.
There is also the possibility of a new player coming on the scene, likely to team up with Ferro or Soon-Shiong to force the other out.
"They would try to align themselves with one of the parties already involved," said Reed Phillips III, chief executive and managing partner at New York-based investment bank DeSilva & Phillip, which specializes in media company transactions. "It's unlikely someone else emerges and makes a play on their own."
Target practice
Media observers have long suspected that Soon-Shiong's primary target is the Times, and it's possible he would negotiate with Ferro to spin off the local paper.
"Soon-Shiong has enough money where he could make an offer that shareholders couldn't turn down," said Nishen Radia, co-founder and managing partner of West L.A. investment bank FocalPoint Partners. "But I don't know if he wants to own the whole thing. … He might want to block Ferro and carve out the Times and maybe the Union-Tribune."
While Soon-Shiong hasn't commented on whether his interest is limited to the Times or if he has broader aspirations for the company, analysts have questioned whether Ferro, who made his money in the tech sector, has a clear vision for the business.
Paul Sweeney, a media analyst for Bloomberg Intelligence, said the future of tronc and the Times would be shaped by which player gains control.
"Is this a company that believes it can grow organically just by developing its business on its own, or a company that believes it needs to merge with or be acquired by another media company, particularly a news company?" he said.

Sweeney cited Gannett, which owns USA Today and many regional newspapers, as a company that continues to expand its print assets with the idea that there is safety in numbers.
And while iconic brand newspapers such as The New York Times, Washington Post, and Financial Times might be able to expand their digital businesses enough to survive on their own, individual newspapers find it harder to compete.
"An interesting trend in these ownership structures, one that may be the future of the industry, is (investors such as) a Jeff Bezos, who sees the Washington Post as not just a personal investment but a public trust investment," he said.
Bezos, Sweeney continued, bought the Post because "the United States needs its Washington Post. It can't endure as a publicly traded operating business, and it has to be supported by someone."
That someone for the Los Angeles Times could be Soon-Shiong, he said. "The important thing is that he's got a checkbook. Somebody has to fund journalism and it doesn't matter where the money comes from."
Ferro, he said, has been trying to sell the idea that he can make a newspaper profitable via his digital efforts.
"I think investors are very skeptical of that," Sweeney said.
Motivated buyer
The source with knowledge of Soon-Shiong's interest in tronc said his motives are driven by a desire to protect the integrity and strength of a paper as valuable to the community as the Los Angeles Times.
The Times has been silent on the latest boardroom battle. Although the paper published more than a dozen stories between April and November on the pending Gannett merger, it did not cover its corporate parent since the Gannett deal imploded until after news of the Oaktree deal broke March 23.
Davan Maharaj, the Times' publisher and editor, declined to comment through a spokeswoman, and the paper's plans to cover tronc going forward are unclear.
"I would not be surprised if there was a real fatigue in the newsroom for the machinations and drama of Tribune and tronc over the last decade," said Nicco Mele, former deputy publisher of the Times. "That may unintentionally be leading to some avoidance."
Newspapers are often challenged to build a wall between reporters and owners, especially when those owners are heavy hitters, such as Bezos, chief executive of Amazon.com Inc. But the Post has published probing stories into the e-commerce giant, becoming a model for good practices, said Dan Kennedy, an associate professor at Northeastern University's journalism school.
"A news organization that wants to be taken seriously and serve its community has to cover the business interests of its owner in a tough and independent way, just as they would with anybody else," he said.
For reprint and licensing requests for this article, CLICK HERE.