Doctor's Venture Nurses Physicians' Home Loans
REAL ESTATE: Lenders say there's less risk banking on medical field's high incomes.
Friday, March 17, 2017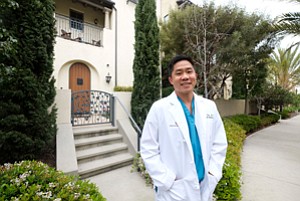 Dr. Peter Kim and his wife finally landed their dream home in Playa Vista in 2012 after a painful process marked by numerous rejections from lenders.
The ordeal was so daunting for him, an anesthesiologist at Cedars-Sinai Medical Center, that he decided to start a real estate agency specifically for physicians to help colleagues avoid some of the pitfalls endured by Kim and his wife, Vicki, an ophthalmologist at Kaiser Permanente South Bay Medical Center.
"At one point, I remember telling my wife, 'I don't think we can get this home,'" Kim said. "All the doors had been slammed in my face."
After being rejected by bank after bank due to his short work history, his heavy student loan debt, and limited savings, one of Kim's co-workers told him about special bank loans designed for physicians – a piece of advice that turned the couple's fortunes around.
Physician loans, which are offered by a number of lenders across the country, allow doctors to make down payments of up to 10 percent of a home's cost – sometimes with no money down at all – rather than the conventional 20 percent required of nonphysician homebuyers. Amounts vary depending on the size of the loan and where a borrower lives. Doctors who take out these home loans are also not required to purchase private mortgage insurance, which can cost a few hundred dollars a month.
However, the loans do come with a slightly higher interest rate – typically an increase of a quarter- to half-percentage point, according to D' Baron, a mortgage loan officer at Capital One Financial Corp. of Plano, Texas, who specializes in physician loans.
"Banks have figured these are good clients," Kim said. "They make a decent income. Their jobs are very, very stable. Their default rates are among the lowest of any population."
With this insight in hand, Kim got his real estate license in 2012 and started helping medical doctor friends arrange these loans and find homes. That, in turn, led to referrals. He formally launched the business, Curbside Real Estate, a year later. Kim said he began receiving cold calls and the business grew quickly, so he had to make a decision about how to proceed.
"It became a second job," he said.
Right Prescription for Banks
Dozens of banks in the United States offer physician loans to help young doctors who might not qualify for a traditional home loan due to student debt and lack of savings and work history.
The standards and requirements vary. Banks in California do not offer physician loans with no down payment, and typically require at least 5 percent down, according to D' Baron, a mortgage loan officer with Capital One Financial Corp. of Plano, Texas. Banks can relax the rules and set their own standards for physician loans because they are distributed using in-house funds.
Medical students graduate with about $190,000 of debt on average, according to 2016 figures from the Association of American Medical Colleges, a nonprofit based in Washington, D.C. Student debt can inflate a borrower's debt-to-income ratio, making it harder to qualify for home loans.
"They're many times going to be well into their 30s before they're out of student mode," said Tal Frank, president of PhysicianLoans, a niche mortgage broker in Columbus, Ohio, that caters to doctors.
Lenders that make physician loans calculate the monthly debt-to-income ratio based on an income-based repayment plan for the student debt versus the traditional standard of using 1 percent of the student loan balance. If the borrower has deferred their student loans, they might not be counted into the debt-to-income ratio at all.
Doctors can qualify for a physician loan by showing proof of employment even before starting their residency, fellowship, or job. A traditional loan would require two pay stubs to verify income.
"Many of them as high-income potential professionals want to buy a home and a physician loan makes it possible without needing help from mom and dad," Frank said.
But if they do need a little extra help, borrowers are also allowed to purchase a home solely from gift funds, whereas traditional loans require that the borrower contribute a certain portion out of pocket. Some lenders offer physician loans that also cover other medical professionals such as veterinarians and dentists.
– Helen Zhao
Prev Next
For reprint and licensing requests for this article, CLICK HERE.