Waterfront's Future Adrift After Redondo Beach Voters Reject $400 Million Project
Coast Unclear
Friday, March 17, 2017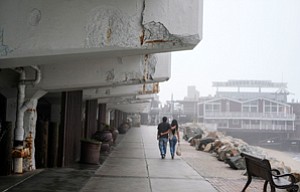 Tony Trutanich Jr. said he wants to maintain the nostalgic maritime décor at his 65-year-old Redondo Beach seafood restaurant, but he recognizes the aging waterfront district around it needs to catch up with the times.
That hope, shared by some other business owners and civic leaders, took a blow this month when Redondo Beach voters passed Measure C to block the city's $400 million waterfront redevelopment plan. The project's future now hangs in limbo and could wind up in court – the latest twist in a decadelong debate about construction along the city's harbor.
"Everyone thinks this is a victory for old Tony's, but I'm a little nervous," said Trutanich, whose father opened Tony's on the Pier in 1952. "As locals, we love those places. … But when you bring somebody from out of town, on a Sunday, and you look at it with fresh eyes, there's stuff to be desired."
The long-running controversy underscores the contentious nature of development across California's 1,100 miles of shoreline, where developable oceanfront property is rare – and highly coveted by investors.
"These projects are a function of public opinion, public amenities, private-sector market forces, and politics," said Larry Kosmont, president of Manhattan Beach-based Kosmont Cos., which advises Redondo Beach officials on real estate and finance. "That is a very volatile cocktail."
Developer CenterCal Properties was slated to construct and finance the massive Redondo Beach project, which would consist of a new boardwalk with shops, restaurants, public space, hotel, and swimming lagoon, as well as $130 million worth of infrastructure upgrades. The City Council had already approved the project and it was awaiting a hearing by the California Coastal Commission.
City Manager Joe Hoefgen said last week that Redondo Beach has not taken a stance on the project's future since Measure C's passage and plans to consult with the commission.
"We need to be careful and make sure that we satisfy our obligations to CenterCal as well as respect the intent of the voters," he said.
Fred Bruning, chief executive of the El Segundo developer, said in a statement after the March 7 election that his proposal can duck regulations from the voter initiative because it already won city approvals. He also emphasized his commitment to seeing the project through.
"We intend to continue working with and listening to the community to finally restore the waterfront," said Bruning, who wasn't available for comment last week.

For reprint and licensing requests for this article, CLICK HERE.
Prev Next