Market Known for Rental Properties Moves into Condo Projects
Diving in Downtown
Friday, March 10, 2017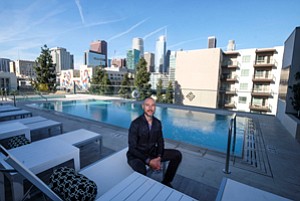 When developer Arden Hearing was trying to finance his Ten50 condo tower downtown, many investors told him to build apartments instead.
With the effects of the Great Recession still lingering, a time when condos sat unsold and prices were slashed to lure buyers, the smart money was on rentals. But Hearing wasn't convinced.
"We just saw different risks," said Hearing, managing director of San Francisco's Trumark Urban. "If everyone's doing (apartments), then you're going to have 10,000 apartments coming on at the same time. What's that going to do to rents?"
Ten50 is at the forefront of a wave of condos set to hit the market in the next few years. Reports put the number of units under construction downtown between 2,100 and 2,500. An additional 2,270 units have been approved, according to condo sales and marketing firm Polaris Pacific of San Francisco. About 5,200 more condos have been proposed, according to the Downtown Business Improvement District, which pegs the total inventory of completed units at more than 5,600.
Ten50, located at 1050 S. Grand Ave., has sold slightly more than 100 out of 151 units in its 11 months on the market, according to Hearing. Listing prices range from $600,000 for a one-bedroom condo to more than $4 million for a penthouse. Residents started arriving in late February, the first to do so at a downtown condo tower since the 2008 opening of Evo South at 1155 S. Grand. While that project eventually sold out, there were challenges.
"They had a very, very hard time selling them," said Neil McDermott, an agent and vice president of Beverly Hills-based Hilton & Hyland. "The reality came when the building was done – the market was down. They had to go through several price reductions before they could sell anything."
The tough economic situation led several developers to convert condo projects that came on line during the recession into apartments.
"If you finish apartments in 2007, you keep renting and you keep cashing checks," Hearing said. "In 2009, the market gets better and you raise rents. You keep raising rents. In the big picture, apartments are a very ultralow-risk real estate investment."
But downtown has evolved since the recession, with tens of thousands of people flocking to the area along with jobs, transportation, amenities, entertainment, and housing.
The steep price increases in the downtown market reflect that growing popularity. The median sales price of a condo there is $633,000 – up from $251,000 in 2012 – an increase of 152 percent, according to Redfin. The median sale price for the L.A. metropolitan area as a whole is $536,000 – an increase of 85 percent since 2012.
Prev Next
For reprint and licensing requests for this article, CLICK HERE.