Buzz About Potential Lease Deals at Wilshire Grand
REAL ESTATE: Two tenants could boost occupancy at newly opened tower.
Friday, June 30, 2017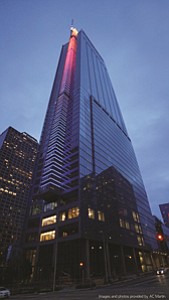 The Wilshire Grand Center is trying to snag two potential leases to help fill its 353,000 square feet of office space across 18 floors, now that the scaffolding has come down at the newly opened building.
CBRE Global Investors, a downtown-based investment arm affiliated with CBRE Group Inc., is the latest company to engage in talks to take space there, according to sources familiar with the firm.
A spokeswoman at CBRE Global Investors said the business had nothing to announce. The unit is located in City National Plaza, separate from parent CBRE Group, which has its offices at 400 S. Hope St. downtown.
Metrolink, a commuter rail service governed by the Southern California Regional Rail Authority, also is considering a move to the building. Its board recommended in May that Metrolink ink a 15-year lease at the property, according to a board agenda, but the panel also is considering three other downtown buildings. A Metrolink spokesman said the agency doesn't plan to carry out its move until next year.
A full floor for both CBRE Global Investors and Metrolink at the Wilshire Grand would mean its office space would be half-leased. The 1,100-foot-tall skyscraper, owned by Korean Air Lines Co. Ltd., had already inked three other leases before its opening last week after four years and $1 billion of construction.
Those leases are with Korean Air; the Southern California Association of Governments; and Cushman & Wakefield, the brokerage that is marketing the tower's office space. Their floors sit below the 30-floor InterContinental Los Angeles Downtown hotel, as well as four floors containing a restaurant, bar and other public amenities. The project also includes a parking garage and retail space.
Maureen Hawley, a senior vice president at Jones Lang LaSalle, which doesn't represent the Wilshire Grand, said the project's completion likely will aid leasing efforts.
"It's definitely a plus that the building is finally done," she said. "It's easier to touch and feel the real thing, and see a clean, blank office floor delivered."
The potential to claim company signage on the rotating LED screen at the top of the building also is a plus. However, with downtown's vacancy rate at 16 percent, Hawley said, absorption tends to be slow.
"We don't have tenants flooding into the market," she said.
The building is asking the highest monthly office rents in downtown at about $4.25 a square foot.
John Sischo, managing principal at downtown's Coretrust Capital Partners that owns the Citigroup Center a few blocks away from the Wilshire Grand, said the new tower's prestige likely will attract tenants willing to pay pricey rents, even without elaborate concession packages.
"I think they're not charging enough," he said. "It's a new product in a great location. It's right in the middle of everything."
For reprint and licensing requests for this article, CLICK HERE.