Investor Cranks Up Industrial Stake in South Bay
ACQUISITION: Rexford's $30.5 million deal expands holdings in tight submarket.
Friday, June 30, 2017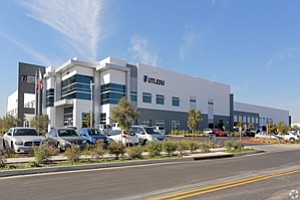 West L.A.-based real estate investment trust Rexford Industrial got a toehold in one of the country's tightest industrial submarkets last month when it paid $30.5 million – or nearly $215 a square foot – for a 142,593-square-foot building at Long Beach business complex Douglas Park.
The South Bay submarket, which includes Long Beach, is about 0.6 percent vacant across 220 million square feet of industrial space, according to first-quarter data from CBRE.
"Investors see the intrinsic value of this location," said CBRE broker Rebecca Perlmutter Finkel, who represented
Irvine-based seller Sares-Regis Group. "It's very hard to replicate."
Rexford's only other Long Beach property is a smaller and older warehouse purchased a decade ago, according to industry tracker CoStar Group Inc. Not only is the Douglas Park property, at 4175 East Conant St., more than eight times as large, but it is also fully leased through 2030 to Universal Technical Institute Inc., which trains automotive mechanics. The monthly base rent is $1.12 a square foot, according to CBRE marketing materials, with gradual hikes up to $1.64 a square foot.
The building was constructed by Sares-Regis in 2015, making it among the most modern facilities in the South Bay, which adds to the property's value because of its potential to take on different types of tenants down the road.
"This could be a UTI building forever, but there's a lot of flexibility where it could be a last-mile e-commerce location or a manufacturing site," Perlmutter Finkel said. "It's very hard to find industrial in Long Beach, because it's such an infill market."
The deal was Sares-Regis' 10th industrial property sale at Douglas Park since it built 13 buildings on 194 acres of land that the develop er bought from Boeing Realty Corp. in 2012.
Sares-Regis sold a 150,701-square-foot building in 2013 to Vogel Engineers Inc. for $19.6 million, or $130 a square foot. It is leased to Virgin Galactic.
Sares-Regis also is building shops, restaurants, office space and a hotel on the edge of Douglas Park.
Norwalk Business Park Sale
Newport Beach-based property manager Davis Partners in late May sold its Carmenita Square Business Park in Norwalk for $14.1 million, nearly doubling the purchase price from 2011.
Davis acquired the site for $8.9 million, or $84 a square foot, according to CoStar. The park's three buildings comprise 105,442 square feet.
A statement from CBRE, which represented Davis, said the property is 98 percent leased to a variety of industrial tenants including Ford Motor Co.
CBRE did not disclose the buyer, but said the entity purchased the property as part of a 1031 exchange. CBRE's Gary Stache, Anthony DeLorenzo and Doug Mack represented Davis.
Koreatown Cachet
A longstanding retail corner on Olympic Boulevard in Koreatown traded last month for $2.92 million, or $223 a square foot, in an all-cash deal.
The 13,070-square-foot strip of six storefronts was sold to Onorton Investment in Koreatown from BSL Norton Partnership in Pasadena, according to CoStar.
Faris Lee Investments said in a statement that it represented the buyer, while brokerage Rosano Partners represented the seller, describing both parties only as private investors. Faris Lee's Tom Chichester, who was assisted by Joseph Chichester and Matt Brooks, said the 97-year-old property appealed to the buyer for its location two blocks east of Crenshaw Boulevard, as well as the potential to fill vacancies and raise rents to market levels.
Staff reporter Daina Beth Solomon can be reached at dsolomon@labusinessjournal.com or (323) 556-8337.
For reprint and licensing requests for this article, CLICK HERE.