Port Truckers Strike Winds Down with Little Cargo Impact
Friday, June 23, 2017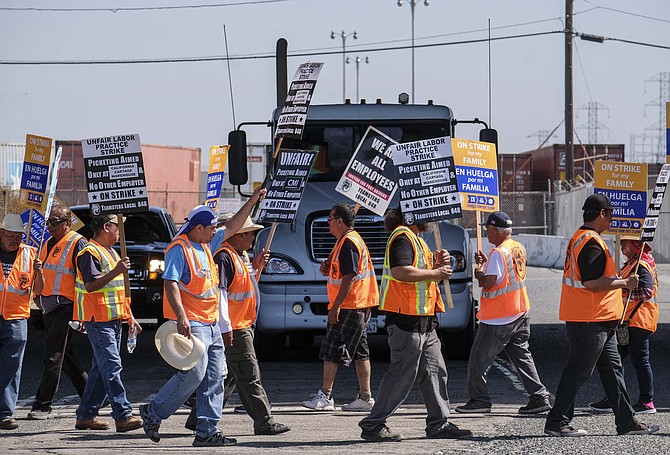 This week's strike by close to 100 truck drivers and warehouse workers at the Los Angeles and Long Beach ports was expected to end Friday with little effect on cargo movement, port officials said.
The goal of the largely symbolic strike was to urge a change in the employment policies of local trucking and warehouse companies and garnered widespread media attention about the issue.
The strike, which was called by Teamsters Local 848 and supported by the International Brotherhood of Teamsters, was the 15th strike by the groups in the last four years at the ports. Drivers were protesting what they said was a misclassification of workers as independent contractors and demanded employee recognition, a right to workplace protections and benefits.
The strike commenced on Monday with workers protesting outside of XPO Logistics Inc. in Commerce, Rancho Dominguez and San Diego. On Tuesday it moved to the facilities of California Cartage Co. on port property and other terminals.
It did not have a major impact on cargo flow at the largest port complex in the country, according to port officials. The ports' truck fleet numbers 16,000, and the strikers were a minor part of the total number of drivers.
"The port's main objective is to work with the truckers and organizers so that they can exercise their First Amendment rights," Phillip Sanfield, a spokesman for the Port of Los Angeles, said.
Labor action was at the gates of the terminals and affected traffic, but for the most part, there were no significant delays for cargo movement, said Sanfield.
The strikers held a rally Friday morning at Los Angeles City Hall where they asked L.A. Mayor Eric Garcetti to take action to end the alleged labor violations by trucking and logistics companies. Councilman Joe Buscaino, who represents the San Pedro area, said he supported the labor action when it was announced last week. On Friday, council members Miguel Santiago, David Ryu, Gilbert Cedillo and Nury Martinez also lent their support for the strike.
Reporter Shwanika Narayan can be reached at snarayan@labusinessjournal.com. Follow her on Twitter @shwanika.
For reprint and licensing requests for this article, CLICK HERE.