Meal Kit Service Mixes in Campbell Soup
Friday, June 23, 2017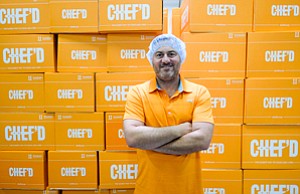 El Segundo-based meal kit delivery company Chef'd has whipped up a $10 million investment from Campbell Soup Co., making the legacy food company its largest strategic investor.
Chef'd, which has raised more than $37 million since its founding in 2015, will use the money from the latest round – which came last month – to double its workforce of almost 300 and build out the company's ordering platform to better understand customer preferences, said founder and Chief Executive Kyle Ransford.
"They really see the future of food like we do: online, fresh, personalized," Ransford said of his newest backer, noting that the Camden, N.J.-based publicly traded company has built up its fresh-food division in recent years, including its 2012 acquisition of Bolthouse Farms, one of the country's largest carrot sellers, for $1.55 billion.
Campbell's latest deal should help it understand the new food economy and give it access to Chef'd's delivery services, said Mark Alexander, president of the soup giant's Americas Simple Meals and Beverages unit.
"We see a major shift happening in terms of how the consumer is going about getting food, and that shift is happening online," said Alexander, highlighting online groceries and meal kits. "We're participating in a number of areas, but we really saw Chef'd as an excellent strategic partner that will allow us to accelerate our activity, testing and experimenting."
Meal kit companies – outfits that mail premeasured ingredients for specific recipes – have been on the rise as a way to satisfy customers' demands for fresher food while eliminating a trip to the store and some of the preparation. New York-based Blue Apron Holdings Inc., one of the biggest in the niche, filed for a $100 million IPO this month.
Various recent deals illustrate how big food companies are trying to get a cut of the online grocery action, said Rich Grant, managing director at Touchdown Ventures in Century City, which manages venture capital funds for companies including Kellogg Co.
"It seems that Campbell, a lot of the larger (consumer packaged-goods) companies (and) grocers are really trying to tap into e-commerce," said Grant. "They view it as having big potential. There is and will continue to be more of a shift online."
New food economy
Major consumer packaged-goods food companies including Campbell, Kellogg and General Mills Inc. have been taking shares in food startups as customers demand fresher and healthier fare.
Campbell, which has seen declines in revenue and earnings in the last two years, nonetheless remains close to $8 billion in annual sales. It started Santa Monica-based venture capital firm Acre Venture Partners with a $125 million investment in 2016 with the goal of investing in food startups that are looking to shake up the market. The parent company, meanwhile, invested in Chef'd because it has sold and may continue to sell its products through Chef'd, according to Alexander.
For reprint and licensing requests for this article, CLICK HERE.
Prev Next