Elon Musk Says Boring Co. Odds of Success Low, But Still Worth It
Thursday, June 8, 2017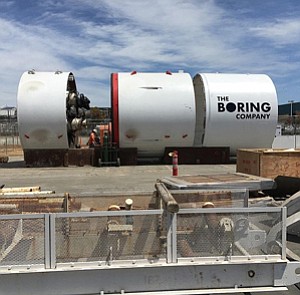 Boring Co. founder Elon Musk acknowledged that his company would likely struggle to gain government approval for a tunnel extending from Los Angeles International Airport to Sherman Oaks, but said the endeavor was still worth a shot.
Musk was responding to a Business Journal article that reported skepticism from city officials in Los Angeles, Santa Monica, and Culver City - municipalities in the path of his planned tunnel.
"We can either give up hope & sit in traffic hell forever or try something new," Musk wrote on Twitter on Wednesday. "The odds of success may be low, but they're better than zero."
Musk is aiming to build a tunnel boring machine that is much faster than the industry average, which he laments is slower than a snail. He plans to use such a machine to tunnel underground from LAX to Culver City, Santa Monica, Westwood, and Sherman Oaks. Cars would be whizzed through the tunnel at more than 120 mph on electric-powered sleds. After reaching its destination, the sled would then be raised to the surface on an elevator platform that emerges from a hole in the street.
Musk noted his plan already has one city's approval.
"The Boring Company is in Hawthorne and has already approved the permit," he wrote on Twitter.
The Business Journal article examined the planned tunnel moving beyond Hawthorne through the cities of Los Angeles, Culver City and Santa Monica. City officials in those municipalities said such a tunnel plan would face a quagmire of environmental and safety regulations, as well as property rights issues.
"The level of complexity and permitting and environmental review - and opportunity for environmental litigation - would stretch this out for decades," said Santa Monica City Manager Rick Cole, a former L.A. deputy mayor, last month.
For reprint and licensing requests for this article, CLICK HERE.