Hotel Partnership Makes Some Room for Investor
SALE: New York billionaire pays $100 million to buy out a co-owner in Sunset Tower.
Friday, June 2, 2017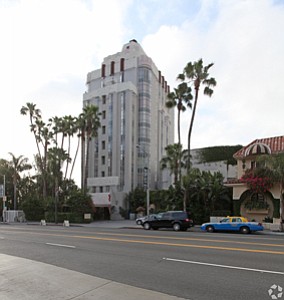 The storied Sunset Tower Hotel in West Hollywood has a new partial owner.
Billionaire industrialist Len Blavatnik of New York-based Access Industries is joining hotelier Jeff Klein as a co-owner after buying out Klein's former partner for roughly $100 million last week, the co-owners announced.
That former partner, Thai investor Thosapong Jaruthavee, purchased an 80 percent stake in the property for about $60 million in 2015 through holding company ER Hollywood. At the time, the hotel's value was pegged at $75 million.
Klein owned the remaining stake, but he wouldn't comment last week on whether his ownership share had changed in the deal.
Jaruthavee's stake in the art deco hotel at 8358 Sunset Blvd. was offered up at about a $100 million asking price in February.
Sunset Tower's average occupancy is about 85 percent, a source familiar with the business said in February. Average room rates hit $450 a night, and during Oscars week can ratchet up to $1,200.
Under Klein's tenure, the Sunset Tower became a Hollywood hot spot that hosts the Creative Artists Agency's annual Golden Globes party and attracts the likes of Brad Pitt, Angelina Jolie, and Lady Gaga. It hosted Vanity Fair's annual Oscars party from 2009 to 2013, helping brand the hotel as a hub for L.A.'s entertainment elite.
Access Industries owns a collection of hotels, including the Four Seasons Grand Hotel du Cap Ferrat on the French Riviera and the One & Only Ocean Club in the Bahamas.
Residences Funding
Construction began last week on Four Seasons Private Residences Los Angeles, 58 ultraluxury condos and townhouses just outside of Beverly Hills, after developer Genton Property Group raised $239 million for the project.
Jonathan Genton, founding partner of GPG, said his West Adams company partnered with Boston-based private equity firm Alcion Ventures and Dallas real estate advisory Holliday Fenoglio Fowler to arrange the financing from Children's Investment Fund Management Ltd., a London-based hedge fund.
Although the developer had a ceremonial groundbreaking in October 2015 for the project across the street from the Four Seasons Hotel, construction did not begin at the time, according to Genton, who said the total projected cost of the project is more than $300 million.
"It was critically important to our investors and international pool of buyers that we eliminated every potential obstacle before beginning primary construction of the Four Seasons Private Residences Los Angeles," Genton said in a statement. "While today's challenging lending and regulatory environment pushed back our initial ambitious time line, we are now moving full-steam ahead toward setting a new standard for luxury living in Southern California."
Prev Next
For reprint and licensing requests for this article, CLICK HERE.