8 over 80: Larry King
Friday, June 2, 2017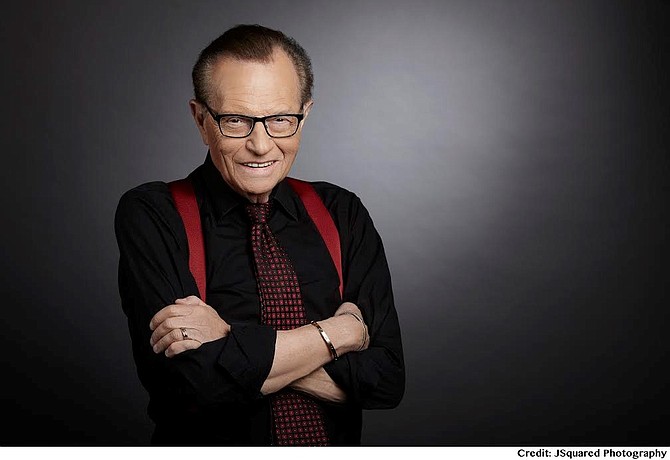 Larry King, 83
Ora TV develops and distributes online video content.
Title: Broadcaster, principal
Background: Left his nightly CNN show, "Larry King Live," in 2010 after 25 years on the air.
How many hours a week do you work?
About 20, plus traveling for speeches. So, some weeks more.
Why not retire?  
Retire to what? I love what I do. Everyday is something new: keeping up with world news and talking to people in all walks of life. I never get tired of it. I feel blessed.
Does your family want you to retire?
They have never expressed that thought. I think they understand how much it means to me.
Best part of working past 80? Worst?  
The best part of working past 80 is working past 80. To still be able to do that after having had a heart attack, heart surgery, prostate cancer, and Type 2 diabetes. I still can travel anywhere and function. There is no worst part.
Are you up to date on technology?
I started when it was radio wires, and then satellites, and then I was seen around the world on television, and now on the internet. I'm still doing what I've always done, but technology is sending me out differently. I respect it. I don't worship it.
What is the best advice you ever got?  
Always be yourself, don't try to imitate other people in your field. People will like you or not like you depending on you.
What advice would you give to people who want to work well past 65?
Sixty-five is now the old 50. It used to be that everybody retired at 65, Social Security came in, and then you're supposed to die at 66. Just keep doing what you love.
What's the secret to staying healthy and active?
I don't know. My father died when he was 46, but one thing that has helped me is pharmaceuticals. Medicine keeps me going. If I have anything that occurs, I see the doctor. And I'll let you in on another thing people don't use enough, luck. Lefty Gomez said, "I'd rather be lucky than good."
Do you work as much as you used to in your 40s and 50s?
I think I do. I have a lot of stamina. I fly around; for example, I'm going to Norway in June to do a conference for Stephen Hawking. I'm going to London to speak to a large group and record interviews for my shows, "Larry King Now" and "PoliticKING With Larry King" on Ora TV.
How has your work routine changed?  
The big difference is now I tape my shows instead of doing them live. All my life I've worked live, and I like live. But the nature of this business and the kind of programming we do with the internet is on tape.
What do you miss the most about being young?
Looking forward to getting older, and I love the innocence of youth.
What do you see in the future?  
Future is a great word for someone 83. I think I will probably die on the air, and like another Jew, in 2,000 years, I'd like to come back.
– Omar Shamout
For reprint and licensing requests for this article, CLICK HERE.