20 in their 20s: Robert Anderson
Friday, June 2, 2017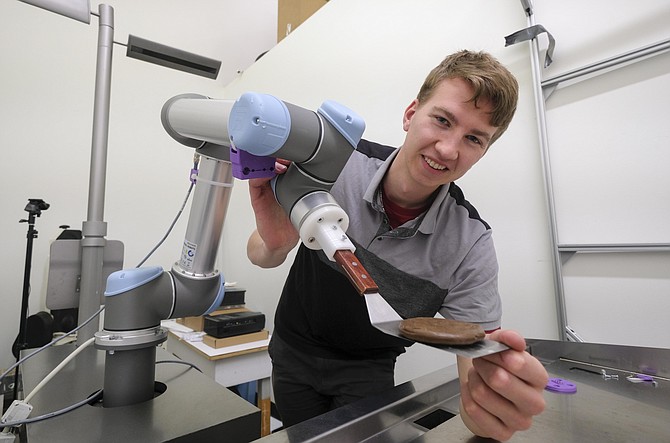 Robert Anderson, 23
Miso Robotics, a Pasadena robotics and artificial intelligence solutions developer for automated food preparation.
Employees: 6
Financials: N/A
What led you to start your own business?
While in high school and college, I pursued many interests to challenge myself and took opportunities that would help me achieve my ultimate goal of making a positive impact on the world.
What's been the biggest challenge so far?
It's been a challenge breaking our larger vision down into manageable sizes and scopes. We have worked really hard to develop our product roadmap allowing us to iterate and meet our goal of implementing Flippy (the robot) into CaliBurger kitchens by early 2018 as well as scaling to meet the needs of future customers.
What's the most important lesson you've learned?
I have learned how to communicate more clearly and listen more critically. Meeting with customers has allowed me to better understand their needs.
How many hours a day do you put in?
I work at least 12 hours a day in the office, but I am always reading, networking, and thinking about innovative ideas to bring to the table as well as approaching problems from different angles.
Has your youth led to any awkward situations, such as when you supervise older employees?
Miso Robotics is unique in that all three co-founders graduated from Caltech a decade apart ('97, '07, and '16). Even though we are composed of employees of different generations, we welcome and encourage any and all ideas. I can admit that in being the youngest it took a while for me to develop my voice when working with others outside the company who are more experienced, but I've noticed that all it takes is preparation and practice.
Would you start another company?
I am passionate about many different sectors and always think about ways to help engineer a better world.
Could you ever work for someone else?
I am driven by improving the world, and I thrive in a collaborative environment, so any company I consider starting or joining must align with my vision and workplace needs.
What do you do to unwind?
Exercise is incredibly important for me to stay balanced. I enjoy playing basketball because it helps me clear my mind and reset during a busy day or week.
– Garrett Reim
For reprint and licensing requests for this article, CLICK HERE.