20 in their 20s: Oren Katz
Friday, June 2, 2017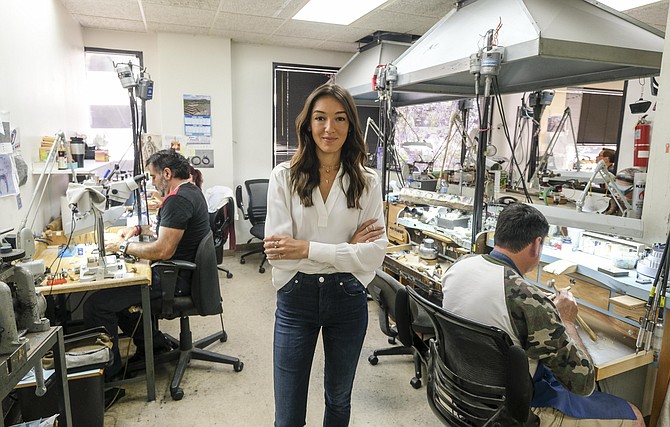 OREN KATZ, 28
Carbon & Hyde, a downtown fine jewelry company that she runs with her older sister, Yarden Katz.
Employees: 2
Financials: Self-funded
What led you to start your own business?
Our family is in the fine jewelry manufacturing business. We own a jewelry shop with about 25 employees who manufacture all our fine jewelry.
Where did you get the startup money?
We started producing a few items in the family shop until we had a very small collection. We took our pieces to stores right away and luckily every store wanted to work with us. We had strong sales from the beginning, so it helped pay back the investment quickly and the business took off from there.
What's been the biggest challenge so far?
The biggest challenge is always thinking 10 steps ahead. You have to be on top of every store and their inventory, you have to know the market and stay on trend, and you need to be prepared for holidays and high jewelry moments during the year.
What's the most important lesson you've learned?
Reminding yourself that every day is a new day. As an entrepreneur, you enter into a roller coaster of a journey. There is a lot of trial and error. Some days you have highs and other days you have lows.
How many hours a day do you put in?
We're in the office managing production
and design about six to seven hours a day,
but I am constantly working every minute
of the day.
Has your youth led to any awkward situations, such as when you supervise older employees?
We're partnered with our family-owned manufacturing house, so technically the only
"real employees" are Yarden and I. But there are over 25 people who work with us in production
to create the jewelry. Most of them have known
us since we were babies, so it's like a family working together.
Would you start another company?
Yes. If I had the time, I would start a business for every passion of mine.
Could you ever work for someone else?
After working for myself and running my own
company, I think it's OK to be greedy and say –
never again.
What do you do to unwind?
Yoga and Soul Cycle.
– Shwanika Narayan
For reprint and licensing requests for this article, CLICK HERE.