20 in their 20s: Nicolas Bijan
Friday, June 2, 2017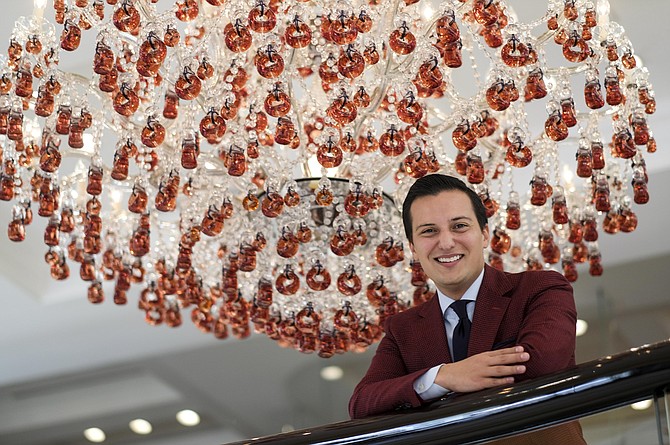 Nicolas Bijan, 25
The House of Bijan is a menswear brand with a flagship store on Beverly Hills' Rodeo Drive; Nicolas Bijan has been reinventing the company since he took over after the death of his father, Bijan Pakzad, in 2011, expanding the brand into new markets.
Employees: 52
Financials: Revenue has increased more than 200 percent under Nicolas Bijan's leadership.
What's been the biggest challenge so far?
Over the last six years, we have worked to appeal to a new, younger generation of affluent men and women. Today, we see a much higher percentage of clients in their 30s and 40s than ever before. This, along with maintaining and improving upon the Bijan brand's 40-year-old philosophy of quality, exclusivity, and attention to detail, has been the biggest challenge.
What's the most important lesson you've learned?
Never, never, never compromise quality. Ever.
How many hours a day do you put in?
I am constantly traveling to meet with our clients from all different countries around the world, as well as visiting our factory in Italy – oftentimes, flying 17 hours for a brief meeting then flying back. If I am lucky enough to be in Beverly Hills, I work 9:30 to 6:30 every day.
Has your youth led to any awkward situations, such as when you supervise older employees?
I believe it has been an invaluable asset, as it has enabled me to ask a great deal of questions as well as learn from a variety of people, especially the individuals who've been in the Bijan organization for decades.
Would you start another company?
I am very fortunate to love what we do and to have inherited a passion for what my father built. If there were an opportunity to create or start something new that I feel as passionate about, I believe it would be unwise not to capitalize upon it.
Could you ever work for someone else?
Of course. I think any opportunity to learn something new as well as gain experience is valuable.
What do you do to unwind?
I've been fortunate enough to be able to visit so many different countries and learn about so many diverse cultures while traveling for business, but whenever possible, I like to travel for pleasure.
– Caroline Anderson
For reprint and licensing requests for this article, CLICK HERE.