20 in their 20s: Jake Kassan and Kramer LaPlante
Friday, June 2, 2017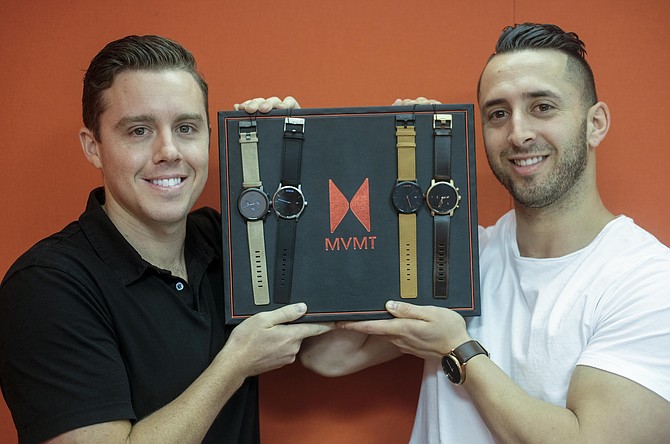 Jake Kassan, 25
Kramer LaPlante, 25
MVMT (pronounced movement), near Westchester, designs and sells minimalist watches and accessories.
Employees: 50
Financials: Raised $300,000 on Indiegogo, no VC or outside investments; $60 million in revenue in 2016.
What led you to start your own business?
Kassan: Kramer and I both loved fashion, entrepreneurship, and the watch industry. We had been obsessed with crowdfunding and wanted to do our own thing. Being broke college kids, we wanted to create a brand that added value and inspiration. MVMT was founded on the belief that style shouldn't break the bank.
Where did you get the startup money?
Kassan: We launched on Indiegogo, where we raised just under $300,000.
What's been the biggest challenge so far?
Kassan: Biggest challenge was in the early days. We were operating on a shoestring budget, and if we made a mistake, it could have crippled our business. Growing to $60 million with only $300,000 in capital was a fantastic learning experience.
What's the most important lesson you've learned?
LaPlante: Network as much as possible and have credible referrals before making any big decisions.
Kassan: The customer always comes first.
Has your youth led to any awkward situations, such as when you supervise older employees?
Kassan: In the beginning, there were awkward situations, oftentimes a lack of respect. As we've grown, it's hard for anyone to underestimate us now. I also believe that we're in a new age of entrepreneurship. Some of the most successful entrepreneurs are under 30.
LaPlante: We have gotten lucky to build an awesome team that really respects each other. I think the space we are in requires young-minded individuals in order to be successful. Although some team members are older, they bring an expertise that we don't have.
Would you start another company?
LaPlante: I think I am always going to be hungry to start something, but for now, we are disrupting an industry and the sky's the limit.
Kassan: My focus is entirely on MVMT and growing it to its fullest potential.
Could you ever work for someone else?
Kassan: It all depends. If they are a good leader, I think there's a possibility, but not anytime soon.
LaPlante: If they are teaching me something that I don't know, absolutely.
What do you do to unwind?
LaPlante: Gym, sports, cars.
Kassan: TV, work out, coffee, sushi.
– Shwanika Narayan
For reprint and licensing requests for this article, CLICK HERE.