Pier Pressure
Friday, July 28, 2017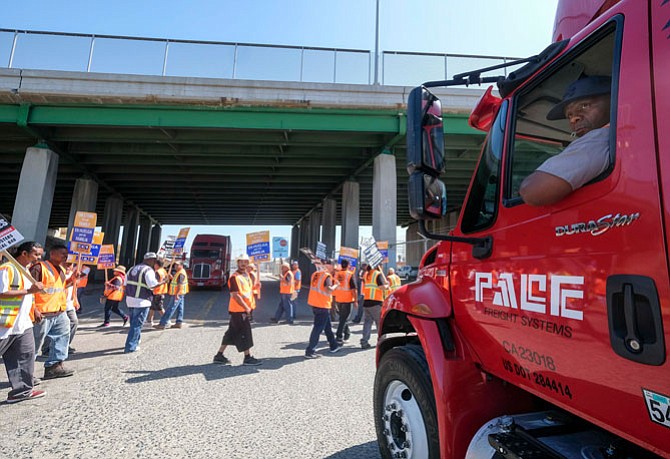 A recent string of strikes by independent truckers in Los Angeles and Long Beach is a symptom of a bigger challenge facing the logistics chain that serves the busiest port complex in the United States.
The ports recently released an update to their joint Clean Air Action Plan, laying out what they presented as a path for using only zero-emission trucks by 2035 and zero-emission cargo-handling equipment by 2030. The decadelong guideline sets strategies that seek to address the challenges of reducing harmful emissions from port-related sources, including ships, cargo equipment, locomotives and harbor craft – as well as thousands of trucks that play a crucial role in the commercial life of the region and nation.
Some truck drivers operating as independent contractors say that the update will affect them the most as the cost to move toward zero emissions – in the form of new trucks and other equipment – is passed on to them by the trucking companies that hire their services.
"I'm all for cleaner air and a healthy environment," said driver Domingo Avalos, 53. "But the cost of that change will fall on independent truck drivers again, like it has in the past."
The independent truckers form an integral part of the local port supply chain, which handles $450 billion worth of cargo to and from both the ports on an annual basis. About 10,000 of them – 86 percent of the 12,000 who work at the two ports – are independent contractors, according to research by David Bensman, a professor at the School of Management and Labor Relations at Rutgers University in New Brunswick, N.J.
Bensman, who has been studying the port trucking industry for 10 years, said that the core of the issue is what he believes to be a misclassification of workers. Some independent contractors are fighting for employee status to relieve themselves of costs incurred while operating a truck. Their status currently leaves the drivers – and not the trucking companies – to cover basic operational costs such as leases, fuel, repairs, maintenance and insurance.
The push by the ports to go green has led to higher costs for the truckers, with more increases likely under the latest phase of the ports' clean air plan.
"It has become apparent that the clean air goals enacted in law in California cannot be met by drivers working as independent contractors," he said.
That has led some truckers to challenge what they also consider their misclassification, initiating 15 strikes of up to 100 drivers each over the past four years, with the help of Teamsters Union Local 848. The most recent action was last month.
For reprint and licensing requests for this article, CLICK HERE.
Prev Next