Pier Pressure
Friday, July 28, 2017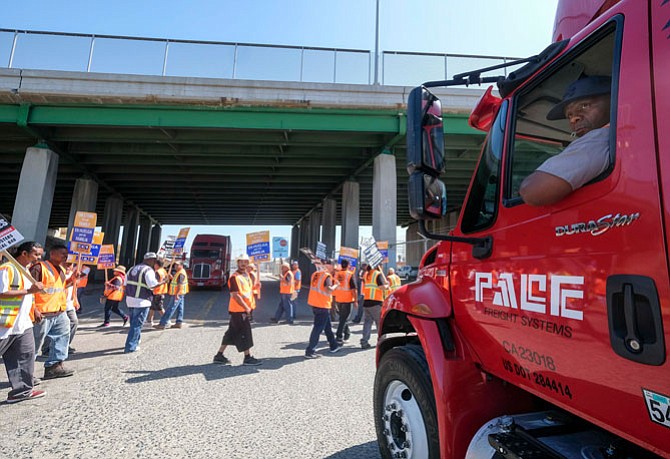 A recent string of strikes by independent truckers in Los Angeles and Long Beach is a symptom of a bigger challenge facing the logistics chain that serves the busiest port complex in the United States.
The ports recently released an update to their joint Clean Air Action Plan, laying out what they presented as a path for using only zero-emission trucks by 2035 and zero-emission cargo-handling equipment by 2030. The decadelong guideline sets strategies that seek to address the challenges of reducing harmful emissions from port-related sources, including ships, cargo equipment, locomotives and harbor craft – as well as thousands of trucks that play a crucial role in the commercial life of the region and nation.
Some truck drivers operating as independent contractors say that the update will affect them the most as the cost to move toward zero emissions – in the form of new trucks and other equipment – is passed on to them by the trucking companies that hire their services.
"I'm all for cleaner air and a healthy environment," said driver Domingo Avalos, 53. "But the cost of that change will fall on independent truck drivers again, like it has in the past."
The independent truckers form an integral part of the local port supply chain, which handles $450 billion worth of cargo to and from both the ports on an annual basis. About 10,000 of them – 86 percent of the 12,000 who work at the two ports – are independent contractors, according to research by David Bensman, a professor at the School of Management and Labor Relations at Rutgers University in New Brunswick, N.J.
Bensman, who has been studying the port trucking industry for 10 years, said that the core of the issue is what he believes to be a misclassification of workers. Some independent contractors are fighting for employee status to relieve themselves of costs incurred while operating a truck. Their status currently leaves the drivers – and not the trucking companies – to cover basic operational costs such as leases, fuel, repairs, maintenance and insurance.
The push by the ports to go green has led to higher costs for the truckers, with more increases likely under the latest phase of the ports' clean air plan.
"It has become apparent that the clean air goals enacted in law in California cannot be met by drivers working as independent contractors," he said.
That has led some truckers to challenge what they also consider their misclassification, initiating 15 strikes of up to 100 drivers each over the past four years, with the help of Teamsters Union Local 848. The most recent action was last month.
The strikes have lasted anywhere from a day to a week, and while none has led to industrywide breakthroughs, there has been progress on their demands. California's Labor Commission has ruled in favor of drivers contesting their independent contractor status in more than 300 cases, awarding millions of dollars in damages.
Trucking companies, on the other hand, say the concerns over misclassification have been overblown.
"These issues are from a very small subset of drivers," said Weston LaBar, executive director of Harbor Trucking Association in Long Beach, a coalition of West Coast trucking carriers. "We know 90-plus percent of drivers prefer to be independent contractors and have made that business model work."
Shift to contractors
Independent contractor drivers work for, but are not officially employed by, trucking companies, and they are paid by the trip rather than the hour, according to Bensman's research.
Trucking companies prefer this model, which frees them from obligations they would have as employers – items such as Social Security taxes, unemployment compensation, workers' compensation, health benefits, pensions, and compliance with occupational health and safety and nondiscrimination statutes, he said.
It wasn't always this way.
Most truck drivers working at the ports were employees of trucking companies up until 1980. Then came the passage that year of the federal Motor Carrier Act, which deregulated the industry.
Supporters of the law said regulation was leading to higher prices for freight customers and consumers at the retail level. They also claimed a handful of big trucking outfits were dominating the market. Proponents of the law argued that deregulation would help truckers by giving them more freedom to choose their employers and schedules.
"The firms that triumphed adopted a new business model," Rutgers' Bensman wrote in a recent study. "They sold all or most of their trucks to the drivers, and then contracted with them on a per-load basis."
The industry shifted to an independent-contractor model, for the most part, but according to some truckers they are treated like employees without the benefits. They say they check in with dispatch daily, which tells them when and where to go and how many loads to pick up and drop off. The companies control their schedules, and the drivers incur costs the trucking companies should take on.
Fighting for wages
All of that, they say, essentially makes them employees, and state labor officials often have agreed with them.
In a recent case, Avalos, who's worked as a truck driver for 20 years, and three other independent contractors at XPO Logistics Inc. won a claim with California's Division of Labor Standards Enforcement alleging wage theft. Avalos said he had been working 14-hour shifts six days a week.
The state agency in April awarded the workers a total of $855,000, with $171,000 going to Avalos, for back pay, reimbursement for business expenses and other damages.
XPO is appealing the decision.
"We know firsthand that the majority of owner-operators prefer to work as independent contractors, and we will continue to advocate for their right to do so," the company said in a statement.
Truck drivers at the sister ports have filed close to 900 claims with the state's Department of Labor Standards Enforcement since 2011.
The Labor Commissioner's Office has issued determinations in at least 376 cases, finding that drivers were, in fact, employees and therefore owed more than $40 million in stolen wages and penalties, said Julie Gutman Dickinson, an attorney with Glendale law firm Bush Gottlieb who represents the Teamsters port division.
About 150 cases are pending and 350 have been settled or sent to arbitration, she said.
"Misclassification has to be proven on an individual, case-by-case basis, and that's why we've seen so many strikes in the last few years," Rutgers' Bensman said.
Emissions crackdown
The most recent strike by the independent truckers followed the signing of a joint agreement by Long Beach Mayor Robert Garcia and L.A. Mayor Eric Garcetti in which both pledged to continue fighting air pollution and global warming, and directed the ports to aim for zero-emission goals in their 10-year-old Clean Air Action Plan, which was updated in mid -July.
The plan was first implemented in 2006 after numerous studies said that neighborhoods around the ports had higher incidents of asthma cases among children than the national average. The effort reduced airborne diesel particulate matter at the ports by more than 80 percent over the last decade, port officials said, though the ports remain the biggest air polluters in the region today.
Key to the initiative was the Clean Trucks Program that launched in 2008 to cut pollution from vehicles hauling cargo to and from the ports.
The program calls for phasing out older trucks, but two previous rollouts of the initiative proved costly to trucking companies and independent contractors alike.
The ports provided grants to companies to help with the cost of purchasing cleaner trucks, which could then be leased to independent contractors.
The trucks on the market that met the green standards were hardly viable – they spent more time in repairs and maintenance than unloading cargo, said the Harbor Trucking Association's LaBar.
The Port of Los Angeles tried to mandate an employee-only model for trucking companies so that they would be responsible for the trucks' maintenance and purchase. The American Trucking Association sued, and the U.S. Supreme Court ruled that the port did not have the authority to mandate driver models.
The pending update of the Clean Air Action Plan could force the drivers and trucking companies on a search for new clean-diesel trucks to buy or lease. New models could cost upwards of $100,000. Natural gas trucks go for around $125,000 or more, while battery-powered trucks can cost as much as $400,000, LaBar said.
Previous rollouts of the program saw trucking companies pass on the cost of new trucks via leases to the independent drivers, according to attorney Dickinson.
"So here we still are, with this business model that doesn't serve the drivers or the trucking companies," she said. "As more cases rule in favor of the drivers, it would serve the trucking companies' interests to hire them as employees."
Port officials have acknowledged that they're still working out how to implement the clean air plan. They said the next five to seven years will be crucial to identify both the technology and funding to implement the new pollution measures at an estimated cost of $7 billion to $14 billion.
The Clean Air Action Plan update is open for public comment until the ports' harbor commissions vote on final approval in the fall.
For reprint and licensing requests for this article, CLICK HERE.