Founder of Shuttered Chain Adds Targets to Suit
Fraser Ross expands filing against former Kitson CEO, accusing company's lenders.
Friday, July 28, 2017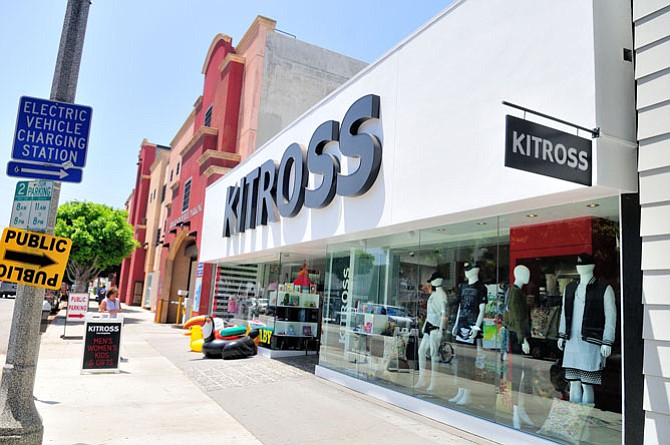 The saga over the unraveling of L.A. retailer Kitson continued this month with an amended complaint filed in Los Angeles Superior Court targeting the company's lenders.
Fraser Ross, who in 2000 founded the West Hollywood gifts and clothing store that became popular with celebrities, sued former Chief Executive Christopher Lee in August. Ross alleged that Lee had him sign over the business for $300 in 2015 while Ross was incapacitated due to a medical condition.
Ross amended that complaint July 12 to accuse Kitson lenders Salus Capital Partners; Harbinger Group Inc., parent company of Salus; and Spencer Spirit Holdings Inc. of stockpiling merchandise, refusing to pay vendors and pocketing the profits after opening a store three weeks before all 19 Kitson locations were shut down around the end of 2015.
He said that has created problems for him at his new ventures, Kitross and Kitross Kids, as he attempts to do business with some of the same vendors.
"They left the crime scene with my fingerprints on it," Ross said.
Neither Harbinger nor Spencer Spirit returned requests for comment, and Salus couldn't be reached.
Lee said last week that he would wait for the court to decide the truth.
"The fact that he amended the complaint to include the investors – it becomes more of a story for him," said Lee.
Kitson started to hit financial trouble in 2013 due to Ross' illness, according to the complaint. The company looked for buyers and received a $26 million offer, which it rejected after Lee told Ross he could increase the company's value, according to the complaint.
New York's Salus loaned the company $15 million in 2013, the filing states.
Ross said in the complaint that he loaned $2 million to Kitson in February 2015, after which he sold his stake in the company to Lee for $300 in April after a medical appointment.
RadioShack, a company in which Salus had also invested, declared bankruptcy in 2015. That led Salus to recruit Egg Harbor Township, N.J.'s Spencer Spirit to loan Kitson $4 million, according to the lawsuit.
The two lenders soon after took over Kitson's operations, which was when they ordered excess inventory before shuttering all of the stores around the end of 2015, the lawsuit alleges.
Salus and Spencer Spirit "engaged in a fraudulent scheme known in the industry as 'pump and dump' to increase Kitson's inventory prior to the liquidation," the complaint states.
Ross said he amended the complaint after Andy Moser, former Salus president, contacted him to say that Salus had been operating in California without a commercial lending license as required by law.
Ross also sued Century City's Jeffer Mangels Butler & Mitchell over the fallout last year, accusing the law firm of malpractice by representing him, Kitson and Lee in transactions in which their interests weren't aligned.
That case is now in arbitration, Ross said.
A call to Jeffer Mangels wasn't returned.
Equity Shoe-In
West Hollywood-based luxury shoe designer Tamara Mellon Brand Inc. raised $13 million in equity this month, according to documents filed with the U.S. Securities and Exchange Commission.
British designer Tamara Mellon, who co-founded luxury shoemaker Jimmy Choo in 1996 and sold her stake in 2011, founded her privately owned e-commerce shoe and handbag business last year, according to the document.
The latest investment is in addition to more than $16.8 million in equity raised in 2016, according to SEC documents.
A call to the company wasn't returned.
E-Tailer Crowdfunding
Another e-tailer, premium denim maker DSTLD, plans to launch its second equity crowdfunding campaign in two years in mid-August, according to the West Hollywood company.
DSTLD, which sells jeans and other clothes through its website, is accepting reservations for a $2 million round from interested investors through New York equity crowdfunding platform SeedInvest. The campaign pegs DSTLD's value at $30 million and says the denim maker has generated $9 million in revenue since Corey Epstein and Mark Lynn co-founded it in 2014.
The company raised $1.7 million last year through another equity crowdfunding campaign after federal law went into effect allowing private companies to sell stakes to unaccredited investors. Accredited investors have a net worth of at least $1 million or make at least $200,000 a year.
Staff reporter Caroline Anderson can be reached at canderson@labusinessjournal.com or 323-556-8329.
For reprint and licensing requests for this article, CLICK HERE.