Departures Launch Aerospace Industry Up List
MANUFACTURING: Loss of American Apparel, Toyota cuts employment numbers.
Friday, July 28, 2017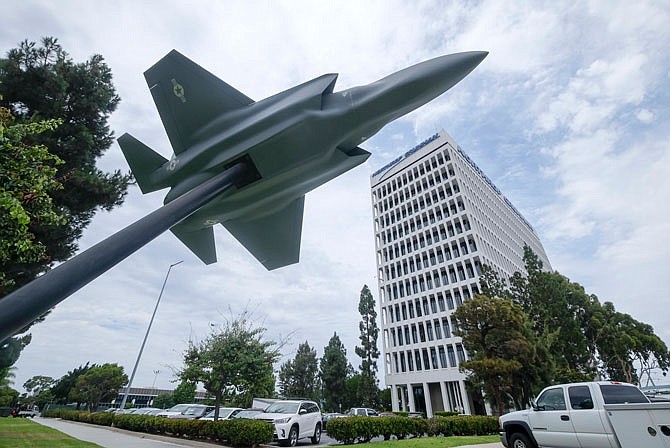 The number of workers employed by Los Angeles County's 50 largest manufacturers reflect an industrywide trend of decline, falling about 3 percent from a year earlier to almost 78,000 as of mid-July.
That was due primarily to the exit of two of last year's top companies on the Business Journal's list of largest manufacturers, as ranked by number of employees – American Apparel Inc., which last year ranked No. 4 before going bankrupt, and Toyota Motor Sales U.S.A. Inc., previously at No. 6 before relocating its headquarters from Torrance to Plano, Texas. Another company, longtime L.A. resident Ducommun Inc., is also heading out, moving its headquarters to Santa Ana. (See story page 1.)
A segment of the region's traditional manufacturing base accounted for the lion's share of this year's list. Aerospace firms comprised the top five and represented more than half of the total workforce among the 50 companies listed. (This week's list doesn't include biotech, biomedical and pharmaceutical product makers, which are ranked on their own annual lists.)
Northrop Grumman Corp. stayed at No. 1, reporting a payroll of 16,600 people, the same number as it reported last year. Rounding out the top five are Boeing Co., Raytheon Co., Space Exploration Technologies Corp. (or SpaceX) and Lockheed Martin Corp.
SpaceX, the only one headquartered in the county, added the most jobs over the past year, growing by 600 employees to 4,000.
"The reason Northrop Grumman and other aerospace companies are operating somewhat well are due to defense contracts," said George Ferguson, senior aerospace analyst with Bloomberg Intelligence. "This is not the case for other manufacturers in general."
Northrop, in particular, could see strong L.A. job growth on the horizon thanks to recent military contracts, Ferguson said.
The company was based in Hawthorne from the late 1930s until relocating its headquarters to Falls Church, Va., in 2011, but Northrop maintains a massive manufacturing and research campus in Redondo Beach.
It reported sales growth of almost 7 percent in the second quarter of this year to $6.4 billion from $6 billion in the same period last year. Second-quarter net earnings increased nearly 7 percent year to year to $552 million from $517 million.
That followed the aerospace giant winning a $35.8 million contract in February for its paint coating operations in Palmdale.
The company also is reaping the benefits of a 2015 contract to build a fleet of 80 to 100 B-21 bombers for the U.S. military. The deal could run $50 billion to $80 billion. The company has a long-held contract to build parts for F-35 fighter jets to serve the Air Force, Marine Corps and Navy as well.
But even a large aerospace company isn't immune to the industry's shift toward automation and a labor force that requires advanced skills, analysts said.
"Understanding how automation can streamline a process allows a company like ours to deploy products at a fraction of the cost and significantly improve cycle times," said Tommy Tomlinson, a sector vice president at Northrop.
Cutting, leaving
Other manufacturing sectors have had their own challenges.
American Apparel laid off more than 3,000 workers from its downtown L.A., La Mirada and South Gate locations in January after it went bankrupt. The company was acquired by Montreal-based Gildan Activewear Inc. for $88 million in February.
The city of Los Angeles set up rapid-response teams to link resources for the newly unemployed at the beginning of the year and recently announced a $3 million grant from the California Employment Development Department to help retrain some of the American Apparel's former workers.
Along with Toyota, companies on last year's list that relocated operations include North Hollywood-based OPI Products Inc., maker of nail polish and nail care items sold in drugstores and beauty supply shops, which moved its manufacturing operations to North Carolina last year.
The company was purchased by New York-based cosmetics giant Coty Inc. in 2010, maker of Calvin Klein, Marc Jacobs and Chloe fragrances. Coty moved production and distribution operations to its manufacturing facility in Sanford, N.C., while sales and marketing were kept in North Hollywood.
At the time of the move, OPI had 450 employees locally, ranking it at No. 46 on last year's list.
OPI declined to comment.
Among the top five companies on the list, Boeing shed the most jobs, cutting more than 1,500 positions at its El Segundo location. That followed the 2015 shuttering of its C-17 transport aircraft manufacturing plant in Long Beach.
Challenges
The Business Journal's list of top manufacturers reflects an overall trend in the region.
The county had 360,400 manufacturing jobs in 2016, down from 366,800 in 2015, according to the state's Employment Development Department.
Manufacturing jobs in the county have been on the decline over the years due to automation, a shift toward advanced skills and off-shore competition. The area lost 262,000 jobs between 2000 and 2016, dropping to 353,100 from 615,000, according to studies by the Los Angeles County Economic Development Corp.
Between 2014 and 2016, 13,400 manufacturing jobs left the county.
A recent LAEDC report also forecasts an additional 1,400 will be lost over the next two years.
Yet the average unemployment rate in the county was 5.1 percent last year, the lowest it's been since 2007.
The county remains the largest center of manufacturing jobs in the United States.
For reprint and licensing requests for this article, CLICK HERE.