L.A. Rising - Los Angeles County
Olympics Get Transit Moving
Monday, July 24, 2017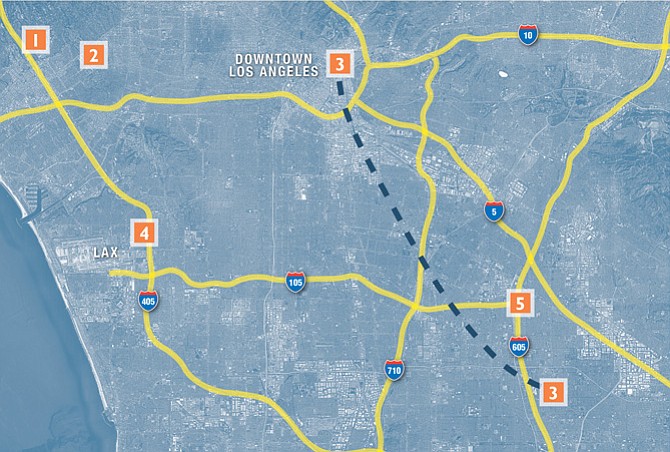 The Los Angeles County Metropolitan Transportation Authority has identified several transit projects for possible fast-tracking before the Olympics come to Los Angeles in 2024 or 2028.
Those on this map are some of the key projects that are being considered. Estimated completion dates are before fast-tracking.
The Measure M countywide half-cent sales tax approved by voters last year would help pay for many of these and other transportation projects. It is expected to raise $3 billion a year.
Sepulveda Pass Transit Corridor
COST: $5.7 billion
Location: Sepulveda and Wilshire boulevards
to Sepulveda and Ventura Boulevard in
San Fernando Valley
Description: The second phase of proposed freeway and transit improvements linking the Valley, it would create a 10-mile subway, light rail or other underground transit. (A possible multitiered option is pictured.)
CONTRACTOR: TBD
Estimated Completion: 2033
Metro Purple Line Extension
COST: $2.5 billion
Location: Constellation Boulevard and Avenue of the Stars in Century City to Veterans Affairs building on Wilshire Boulevard in Westwood
Description: Third part of a 9-mile subway extension. First piece is under construction; other two parts are approved.
Contractor: TBD
Estimated Completion: 2024
Union Station to Artesia Light Rail
COST: $3.8 billion to $4.6 billion
Location: Union Station downtown to Pioneer Boulevard and South Street in Artesia
Description: Proposed 20-mile rail line
Contractor: TBD
Estimated Completion: 2028 (southern half), 2041 (northern half)
Metro Airport Connector Transit Station
COST: $350 million
Location: 96th Street and Aviation Boulevard, Westchester
Description: Approved transit station connecting Metro's Crenshaw Boulevard-LAX line under construction to a planned airport people mover.
Contractor: Walsh/Shea Corridor Constructors
Estimated Completion: 2021-2023
Metro Green Line Extension to Norwalk
COST: $250 million
Location: Green Line Norwalk Station to Norwalk Metrolink Station on Imperial Highway
Description: Proposed 2.8-mile Green Line extension
Contractor: TBD
Estimated Completion: 2051
For reprint and licensing requests for this article, CLICK HERE.