They've Still Got Mail
ENTERTAINMENT: Talent agencies' old-school training.
Friday, July 21, 2017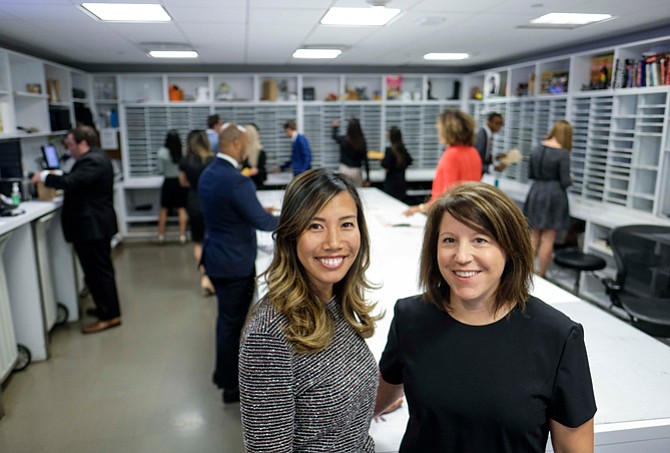 Today's office employee spends more time opening e-mails than envelopes.
But L.A.'s talent agencies are hanging onto a piece of retro mystique that's served as the training ground for a great many entertainment power players through the years: the company mailroom.
While PDF scripts and digital communication have led to far less paper moving through mailrooms than in the past, almost all agent trainees at top agencies still serve a required tour of duty in the mailroom as part of their initiation into a highly competitive world.
Agency representatives said agent hopefuls can still be found pushing mail carts, as well as binding and delivering hard-copy scripts for bosses who still prefer to thumb through physical pages than tap an iPad or Kindle screen.
"We consider the CAA program our version of getting your MBA or going to grad school," said television agent Kathy White, who oversees Creative Artists Agency's trainee program with two other alumni: Natalie Tran, co-director of the Century City agency's CAA Foundation, and Jimmy Darmody, co-head of the motion picture department.
Mailroom or agent trainee programs – not to be confused with internships – are also still in force at ICM Partners of Century City, as well as WME-IMG, United Talent Agency and Agency for the Performing Arts, all based in Beverly Hills.
CAA's program has existed since the agency was founded in 1975, and it is actually the second rung on its corporate ladder. Agency employees must first work as an agent's assistant for about a year before they can apply.
If accepted, they then begin a three-month stint in the mailroom to kick off their training. Each agent trainee class ranges in size from five to 16 employees.
While the company didn't provide hard numbers, a representative said thousands of applicants apply for entry level positions, including assistant jobs, every year. Assistants at CAA make about $13 an hour – or roughly $27,000 a year – according to jobs website Glassdoor.
Other companies flip the script, with entry level employees starting in the mail room and then moving on to an assistant desk. Such is the case at WME, where entry level mailroom employees, called floaters, are assigned a variety of tasks that allow them to circulate through the company's various departments for six to eight weeks before becoming assistants.
Swimming with sharks?
James Gosnell, chief executive of Agency for the Performing Arts, said mailroom programs have continued to flourish because there is no specific academic path to an agent career. Dozens of APA agents are veterans of the agency's program.
"You can't get a degree in being an agent," Gosnell said. "You need to work in the business, get into a mailroom program, and work your way up."
Some of Hollywood's most notable agents and executives, including Michael Ovitz, David Geffen, and Barry Diller, are all veterans of the WME mailroom back when it was William Morris Agency.
The HBO television series "Entourage," in which actor Jeremy Piven portrayed the ruthless fictional agent Ari Gold, as well as David Rensin's 2004 book, "The Mailroom: Hollywood History from the Bottom Up," helped perpetuate an image of Hollywood agencies as a shark tank, where big fish in Armani suits feed on mailroom minnows, demanding the most demeaning of services.
Representatives of today's agent-trainee programs present a less extreme picture, noting graduates of the program tend to support and mentor the next generation.
CAA's White did acknowledge, with a laugh, that some agents play into the stereotype because it makes them seem tougher.
Lindsay Howard, an APA partner in the literary department, came through the agency's mailroom program nearly 15 years ago. She agreed with White that agencies are not the viper pits of Hollywood legend.
Howard recounted a tale from her trainee days in which the members of her mailroom class engaged in a somewhat absurd competition. The mailroom manager – in an era when reading scripts on tablets hadn't yet become the norm – posted on the wall the record number of scripts bound by agent trainees in one day.
While Howard couldn't recall the exact number, she said it was in the hundreds. Her group was determined to break the record.
"We had paper cuts for days," Howard said.
While agent trainees still push around the mail cart to executive suites, these entry-level employees have more responsibilities than full-time mail clerks.
Trainees work on client projects, plan and operate movie and TV screenings, and also attend company mentoring and guest speaker events.
Some tasks, though, have truly gone out of date. For example, agent trainees no longer busy themselves making video tape copies of movies and TV shows that now can be accessed online.
But the goal of the various programs has remained the same through the years: To learn how to be a successful agent.
APA's Gosnell said it's all about asking the right questions, offering assistance when needed, and paying attention to whom you are running into as you push your mail cart.
"Many young graduates want to be president of the company in three weeks," he said. "Patience is the key. It's not a job, it's a career, and a career requires patience, as well as a love of what you do at every level of the journey."
For reprint and licensing requests for this article, CLICK HERE.