Pasadena Avatar-Generating Startup Oben Inc. Raises $5 Million
Wednesday, July 19, 2017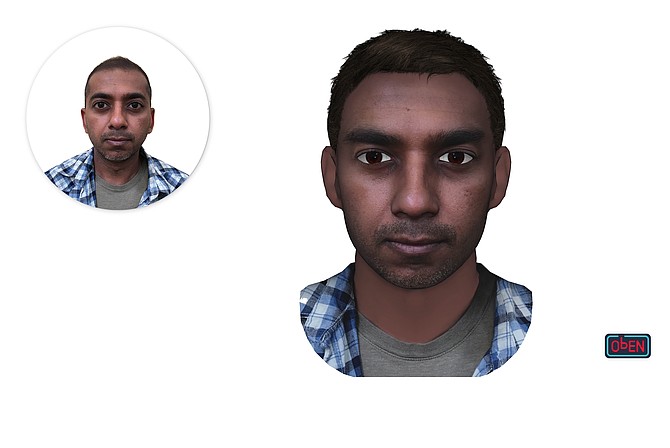 Artificial intelligence startup Oben Inc. said it has raised a $5 million round led by Chinese investment firm Tencent Holdings.
The Pasadena company's technology creates 3-D avatars that look and talk like their real-life human counterparts. A personalized 3-D face is generated from a selfie photo, and an artificial voice is generated from a short sound recording.
The company uses speech, computer vision and natural language processing software to construct a virtual voice and 3-D image, which when animated mimics a person's facial expressions.
The company envisions using its technology to reproduce celebrity avatars with which fans can interact. Oben last month announced the formation of AI Stars, a joint venture with S.M. Entertainment, an Asian entertainment company that works with a number of K-pop celebrities.
"Fans may never have a personal experience with their favorite celebrity, but Oben's Personal AI for celebrities aims to change that," Nikhil Jain, co-founder and chief executive of Oben, said in a statement. "Imagine being able to perform a virtual duet with your favorite artist, have your beloved movie star become the face and voice of your virtual assistant, or engage in a deep conversation with your most admired influencer."
Li Ruigang, chairman of CMC and Fengshion Capital of Hong Kong, also invested in the company's $5 million round along with Shenzhen, China-based Tencent, according to Oben. This brings the company's total funding to more than $13.7 million.
Technology reporter Garrett Reim can be reached at greim@labusinessjournal.com. Follow him on Twitter @garrettreim for the latest in L.A. tech news.
For reprint and licensing requests for this article, CLICK HERE.