Licensers Have Designs on Women's Fashion Firm
APPAREL: Brand life holds some promise for bankrupt BCBG Max Azria Group.
Friday, July 14, 2017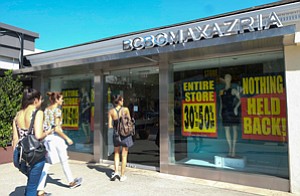 Women's apparel company BCBG Max Azria Group might be bankrupt, but its brand and many of its stores are expected to survive the demise.
A deal for two brand licensers to buy the majority of the company's assets, expected to close by the end of the month, means BCBG could fare better than some retail peers that have also gone under.
"This is the best possible outcome for customers, vendors, business partners, and our employees who are the lifeblood of the company," Marty Staff, acting interim chief executive of BCBG, said in a statement. "BCBG will remain a viable, creative and strong brand going forward across multiple platforms."
The Vernon-based company joined a growing list of legacy retailers declaring bankruptcy over the past year when it filed for Chapter 11 protection in U.S. Bankruptcy Court in New York in February. BCBG cited similar reasons as other retailers in bankruptcy documents, including the challenge of sales moving online from brick-and-mortar outposts as well as younger consumers putting a lower premium on brand names.
Hong Kong-based publicly traded Global Brands Group Holding agreed to pay $23 million and assume all liabilities for certain BCBG inventory, retail store leases and other assets as well as contract rights relating to the apparel maker's retail, wholesale and e-commerce operations, according to bankruptcy documents. The company told investors that it plans to license the BCBG brand from New York investment manager Neuberger Berman's Marquee Brands, which agreed to acquire BCBG's intellectual property for more than $106 million. An additional $36 million in assets is being sold off as well.
Global Brands plans to continue operating 43 of BCBG's freestanding stores, including 11 in California, as well as about 300 partner stores that operate inside other retailers such as department stores, BCBG spokeswoman Anita-Marie Laurie said. At its height, the apparel company had 550 freestanding and partner stores across the United States.
That's still a better fate than its downtown peers Nasty Gal Inc. and American Apparel Inc.
Both clothing companies declared bankruptcy last year and were forced to close all of their stores after their intellectual property was sold for $20 million and $88 million, respectively.
Job situation
Although BCBG's Vernon headquarters will close and a state-required notice of layoffs was issued for 116 employees in March, the company's new owner plans to offer jobs to a majority of the corporate employees, Laurie said.
The fact that two reputable companies, Global Brands and Marquee, were interested is an encouraging sign, said Mark Belford, managing director of consumer and retail investment banking at New York's KPMG Corporate Finance.
"I think if we have this conversation a year or 18 months from now, we'll all be very pleased at the reintroduction of the brand," said Belford. "If they get things right, then they've made a savvy investment."
Tunisia-born fashion designer Max Azria founded his eponymous company in Los Angeles in 1989.
Azria, who worked in Paris before starting BCBG, named it after the Parisian phrase, "bon chic, bon genre," or "good style, good attitude," according to the company.
The company acquired French couturier label Herve Leger in 1998. Over the years, BCBG built up a heavy mall presence – one of the contributing factors to its decline, according to Belford, as retail center traffic has declined in the United States in recent years.
The company began struggling in 2015 and sought an out-of-court restructuring that resulted in Azria and his wife, Lubov Azria, who co-owned 100 percent of the common equity, giving up 80 percent of their stake. New York-based Guggenheim Partners Investment Management and other investors control the company.
Max Azria stepped down as chief executive last year, followed by his wife from her position as chief creative officer this year.
The company filed for bankruptcy in February, reporting a loss of $112 million after taxes for the year ended Jan. 28, according to an investor announcement by Global Brands. Liabilities exceeded assets by $457 million as of that date.
BCBG sought permission from the court to close 120 stores in April, which Belford said took the pressure off because real estate is a big cost.
Manhattan Beach's True Religion Apparel Inc., which filed for bankruptcy protection this month, has also sought to close some of its locations, but the company intends to continue operating under a restructuring plan.
BCBG wasn't so lucky and will cease to exist as a company. But its brand is expected to live on.
Marquee, which also bought Redondo Beach surf retailer Body Glove for an undisclosed amount in November, said in a statement that it plans to leverage company resources to expand BCBG and related brands.
For reprint and licensing requests for this article, CLICK HERE.