Downtown Motel to Check Out After $26.5 Million Sale
ACQUISITION: China-linked buyer plans to build 24-story residential-retail building.
Friday, July 14, 2017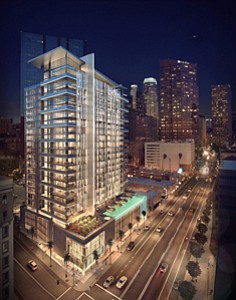 A parcel near downtown's Financial District sold last month for $26.5 million, or $795 a square foot, to a developer that plans to build a 24-story condominium tower in place of a decades-old motel.
CBRE Group Inc. broker Phillip Sample, who marketed the property with Michael Shustak, Chris Caras and Brandon Bank, said the price per square foot hit a record for the City West area, which sits just across the 110 freeway from the Financial District.
Public records show the property at 1135 W. Seventh St. last traded in 2014 for $9.2 million, or $276 a square foot, to Pangea Development of Pasadena. The buyer in last month's deal is Hong You Properties of Mid-Wilshire.
Sample attributed the price jump to the entitlements that were secured by the seller to allow construction of 241 condominiums over 6,320 square feet of ground-floor retail space, in a project dubbed the Seven. The property only sat on the market for a couple of months once city officials approved the entitlements, he added, indicating strong demand for the location.
"You get everything of downtown, you're just on the outskirts," he said. "With the accessibility to the 110, it's a little more convenient. And the views on the horizon are just incredible."
Sample declined to confirm the buyer's name, but said it is affiliated with a company in China, one of the several foreign countries where CBRE had targeted its marketing, including South Korea and Germany. CBRE also represented the buyer in the transaction.
Chinese companies are backing two of the largest projects under construction in downtown, Metropolis and Oceanwide Plaza, which both will offer condominiums.
Despite that competition, Sample said demand is strong enough to justify another residential tower, especially given interest from potential buyers overseas.
"Downtown is growing considerably every year," he said. "The buyer pool is tremendous. There's not been any shortage of the influx of people coming."
The Seventh Street property is currently home to City Center Hotel, a two-story motel with 43 rooms that was built in 1956, according to the Los Angeles County Assessor's Office. It would be razed to make way for the condominium project.
Construction Icons Die
Two major players in L.A. construction passed away in recent weeks.
Paul Matt, co-founder and chairman of downtown-based Matt Construction, which built major L.A. projects including the Broad museum and Waldorf-Astoria Hotel, died June 30 at 85.
Matt, a Newport Beach resident for more than 45 years, died from cancer, his son Steve Matt said in a statement.
For reprint and licensing requests for this article, CLICK HERE.
Prev Next