Century City Mall Rises With $1 Billion Makeover
RETAIL: Westfield property bags seventh spot as site bids to compete in online era.
Friday, July 14, 2017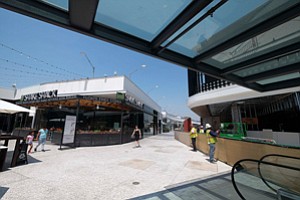 Westfield Century City jumped 19 spots to claim the No. 7 slot this year on the Business Journal's annual list of largest retail centers in Los Angeles County, a rise stoked by a $1 billion renovation that makes the property a standout in a mostly unchanged industry ranking.
Westfield's expansion isn't just about size, according to executives with the company, which counts Sydney-based Westfield Corp. as its parent.
The Century City makeover also is an attempt to rethink the mall experience, as shopping centers have struggled and retailers have shuttered under increasing pressure from online sales. Westfield Century City and other retail centers have been adding restaurants, gyms and other features to make going to the mall more experiential.
"What you want to be able to do for the customer is first make it immensely pleasing, but then you want to surprise them and have something memorable, whether it's inside the store or outside in the common areas, and we're really working quite hard to do that," said Chief Operating Officer Bill Hecht.
The two-story outdoor retail center is in the midst of a massive renovation project, adding more than 400,000 square feet of leasable retail space and 147 stores to its portfolio. This development will bring it to 1.3 million square feet of leasable area and 260 stores total.
Amazon.com Inc. will open its first L.A. Amazon Books store in a 5,227-square-foot suite in the retail center later this fall. This will be the first of potentially other Amazon stores at Westfield locations.
The other retail centers on the list displayed minimal growth in terms of space and the rankings remained relatively static, reflecting a struggling environment for brick-and-mortar stores.
Del Amo Fashion Center in Torrance ranked first once again with 2.48 million square feet of gross leasable space and 240 stores, about 90,000 square feet more than the previous year.
Westfield Topanga in Canoga Park, Lakewood Center, Glendale Galleria and Westfield Santa Anita in Arcadia took the second, third, fourth and fifth spots, respectively.
The combined leasable area for the top 10 retail centers increased slightly to 16 million square feet in 2017, up roughly 1 percent from last year's 15.8 million square feet.
Renovating spaces
Many of the malls are renovating in response to changing shopping trends.
About 79 percent of Americans are now shopping online, up from 22 percent in 2000, according to a December report by the Pew Research Center.
Prev Next
For reprint and licensing requests for this article, CLICK HERE.