Walking Mall Now Pedestrian
Friday, July 7, 2017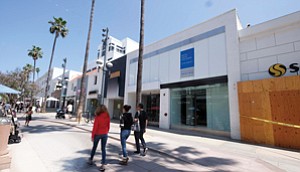 Santa Monica's Third Street Promenade launched almost three decades ago with a strategy that was unconventional at the time – closing the boulevard to cars and creating a pedestrian mall.
The rise of e-commerce has begun triggering unprecedented tenant turnover on the three-block shopping strip, however, and property owners are looking for creative ways to boost their fortunes and weather widespread tumult in the retail industry.
A recent count totaled six out of about 100 stores on the Promenade vacant as of the end of last month, according to Downtown Santa Monica Inc., a local business-booster nonprofit. An additional seven were recently leased but not yet open, giving the off-putting appearance of a rocky business climate.
Those numbers might seem small, but they're notable for a tourist hot spot that accounts for $517 million in retail sales annually, according to the most recent data available, and draws foot traffic on par with Disneyland – 16 million people a year, according to Downtown Santa Monica.
The Promenade is grappling with vacancies for the first time since it opened in 1989.
"For many years, nobody would ever see a vacancy on the Promenade, and we would switch tenants before the buildings became vacant," said Tenzer Commercial Brokerage's Barbara Tenzer, who has worked in the shopping district since its debut. "This is the most turnover that we've had in a long time – but it's not just for this area, it's all over the United States."
Tenzer and others are pushing for the popular tourist destination to evolve as a number of once-popular apparel retailers downsize.
American Apparel and Nasty Gal have filed for bankruptcy protection and closed all their stores, including sites on the Promenade. BCBG Max Azria Group Inc. is shuttering 120 stores amid bankruptcy proceedings, although its Santa Monica Place location is slated to remain open at the southern edge of the Promenade.
A neighboring Sears department store closed in April, and the landlord decided to convert the property into an office and retail project.
Renovations
Malls in Los Angeles and nationwide are aiming to hang on to both tenants and customers by pumping hundreds of millions of dollars into renovations.
Westfield Corp. is completing a $1 billion makeover of its Century City mall, for example, while Taubman Centers Inc. is in the midst of a $500 million redo at the Beverly Center. Only developer Rick Caruso's centers – designed to look like authentic streets in the style of the Promenade – appear to be sticking with their original format.
For reprint and licensing requests for this article, CLICK HERE.
Prev Next