Fast-Casual Pizza Business Still Delivers in Sector
DINING: Blaze remains hot with franchisees as chain maintains rapid expansion.
Friday, July 7, 2017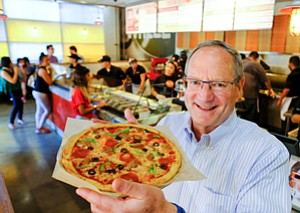 Blaze Pizza's revenue is on fire.
The Pasadena-based company is one of the fastest-growing fast-casual, make-your-own pizza companies in the United States, and continues to be one of the fastest-growing private companies in Los Angeles, according to new sales figures provided by the chain.
Blaze, founded in 2012, projects that its stores – 200 locations and growing in the United States and Canada – will generate $285 million in sales this year, an increase of more than 54 percent from 2016 when revenue was $185 million.
A good chunk of the growth has come from 70 locations opened over the last year or so. Sales for locations open at least 18 months showed a 2.1 percent increase last year.
Chief Executive Jim Mizes declined to provide net income, saying only that it has been positive since 2015.
"We're no longer an emerging brand," Mizes said. "We are a high-growth brand."
The co-founders, who also started mall staple Wetzel's Pretzels, have steered Blaze to the top of the list of companies that have capitalized on the concept of individual artisan pizza made in a few minutes.
The strong performance of the chain's individual stores – the best in the segment, according to Blaze – has attracted best-in-class franchisees who have fed the company's growth, said Darren Tristano, president of Chicago-based restaurant research firm Technomic.
"All indications show that Blaze will be the largest in 2017" in the make-your-own category, Tristano said.
Blaze's biggest competitor – Bellevue, Wash.-based Mod Super Fast Pizza Holdings, saw same-store sales grow faster last year at 5.3 percent. Mod's physical footprint, at 232 stores, is bigger as well.
Yet Mod's total revenue of $152 million for the year ended Dec. 25 fell short of Blaze's $185 million last year – an indicator of higher per-store sales, which could be a key in attracting franchisees.
A spokeswoman at Mod wouldn't comment last week, and four other competitors couldn't be reached or declined to comment.
Raising dough
The idea for Blaze came to husband-and-wife co-founders Rick and Elise Wetzel while they were having lunch at a Chipotle Mexican Grill Inc. restaurant.
"As we were sitting there, after walking the line with our meal, we looked up and said there's no reason why this wouldn't work for pizza," Elise Wetzel, the chain's chief brand officer, told the Business Journal in 2015.
The experience of eating at Blaze, whose stores have industrial décor with accents of reddish orange, appeals to customers, said Janet Lowder, founder of Restaurant Management Services in Rancho Palos Verdes.
"If people are looking for value, they go to Domino's with a coupon," Lowder said. "But if they want quality and atmosphere, they go to Blaze."
Rick Wetzel already had experience in the food industry from opening Wetzel's Pretzels in 1994 in Redondo Beach with Bill Phelps. Phelps would go on to be an original investor in and board member of Blaze.
In 2007, Beverly Hills' Levine Leichtman Capital Partners bought the pretzel chain for an undisclosed amount, although both co-founders retained stakes in the company.
The Wetzels opened the first Blaze in Pasadena in 2012. That same year, Westwood's 800 Degrees and Westlake Village's PizzaRev opened their first stores as well. Mod already had been around for a few years after its opening by Ally and Scott Svenson in Seattle in 2008.
After opening the second Blaze location in Irvine in 2012, the Wetzels hired Mizes, formerly an executive with Noah's Bagels and Jamba Juice, as chief operating officer. Rick Wetzel stepped down this year as chief executive, and Mizes was promoted to the position. Wetzel now serves as chairman.
The Wetzels were largely able to fund themselves and their move to begin franchising early on meant that they didn't have to raise a lot of money – just enough to build the five locations the company owns today and the infrastructure to support franchises, Mizes said.
Phelps also invested in the company, and he and the Wetzels together still retain a majority stake in Blaze, Mizes said.
Blaze landed in the sixth spot on the Business Journal's list of fastest-growing private companies last year with a 1,729 percent growth in revenue to $100.2 million from 2013 to 2015.
Franchise focus
Blaze's 195 franchise locations are owned by 45 franchisees, Mizes said. The company has been careful in selecting its franchisees, only working with those that have more than one brand and more than one unit.
That selectivity has paid off, Tristano said.
"The typical approach is to go to out into the market, look for a couple big franchisees, but if some mom-and-pops want in, say OK," he said. "Then they're opening stores and competing with themselves."
Blaze has been able to attract strong franchisees because of its strong unit economics, Tristano said.
The five stores owned by the company generated on average more than $1.88 million in gross sales for the year ended Dec. 26, by which date all had been open at least 18 months, according to the company's franchise disclosure document. The 64 franchise locations open at least 18 months as of Dec. 26 generated an average of more than $1.41 million in gross sales.
Company-owned stores generated more revenue because they've been open longer and are in California, where the brand started, Mizes said.
Mod's company-owned and franchise stores that were open at least two years as of Dec. 25 generated on average about $1.28 million annually over that period, according to documents related to franchising.
Blaze plans to open its 200th store this week, in Ohio, one of about 75 locations it intends to start this year, Mizes said. The chain also is thinking about expanding its international footprint beyond Canada.
For reprint and licensing requests for this article, CLICK HERE.