Venture Takes Shot With Telemedicine
SnapMD investors check in with $8.5 million to help firm nurse video-streaming consultations.
Friday, January 13, 2017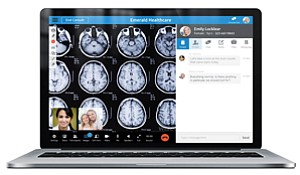 Telemedicine software developer SnapMD Inc. has closed a roughly $8.5 million Series A round, bringing its total capital raised to more than $9.1 million.
The Glendale company's core product, a Health Insurance Portability and Accountability Act-compliant, cloud-based software platform called Virtual Care Management, utilizes video-streaming to allow remote consultations between doctors and patients.
SnapMD has roughly 75 customers across the country, ranging from small medical practices to large health care systems, said co-founder and Chief Executive Dave Skibinski, 58.
"There are over 45 different types of medicine being practiced on the platform today," he said. "We have what we believe is the largest number of clinical use cases in the industry."
The cash will be used to fund new platform tools as well as drive sales and marketing initiatives, he said.
The chief executive launched the company in 2013 with co-founders George Tierney, Doug Campbell, and Dr. Rustin Morse.
The global telemedicine market is estimated to grow to nearly $58 billion in 2020 from more than $25 billion in 2015, according to a September report released by Market Data Forecast of Hyderabad, India.
SnapMD announced a partnership earlier this month with Athenahealth Inc. that allows providers in that company's network to use SnapMD's white-label technology. In December, the company signed a deal with Konica Minolta Business Solutions USA Inc. to incorporate the software into Konica's online business marketplace.
While Skibinski declined to disclose revenue figures, he said SnapMD, which has 35 employees, should start to break even sometime in late 2017.
The most recent funding is a continuation of a Series A round, the first part of which closed in January of last year. Investors include Walnut's Shea Ventures, founded by billionaire home developer John F. Shea, who ranked No. 43 on the Business Journal's Wealthiest Angelenos list in May with a net worth of $1.42 billion.
– Omar Shamout
For reprint and licensing requests for this article, CLICK HERE.