Licenser Turns to TV Vet to Channel Revenue
Friday, January 13, 2017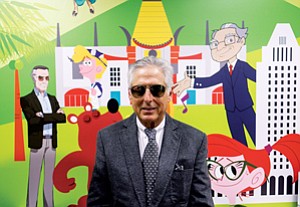 Margaret Loesch doesn't have a cape, but Genius Brands International Inc. is hoping the children's programming veteran will save the day for its educational cartoon and licensing business.
After years of declining revenue, the Beverly Hills company last month brought in the former Fox Kids chief executive who helped foster iconic children's TV shows including the "Transformers" cartoon in the 1980s and the "Mighty Morphin Power Rangers" in the 1990s. Genius has charged Loesch with raising the visibility of its on-demand streaming channel, which in turn could feed the licensing income that accounts for more than half of its revenue.
"You couldn't possibly find a bigger star," said Genius Chief Executive Andy Heyward. "She's been at the forefront of children's broadcasting for decades."
The company declined to make Loesch available for an interview.
The hiring of Loesch, already a Genius board member, as executive chairman of the Kid Genius Cartoon Channel is meant to accelerate momentum the company achieved this year with the launch of a tween girl webisode series and a streaming distribution deal that doubled its reach to 42 million households. In November, the company engineered a 1-to-3 reverse stock split to be uplisted on to the Nasdaq, a move the company said was designed to lure institutional investors.
Still, Heyward's A Squared Holdings controls almost 25 percent of the common stock.
Heyward as an individual controls a little more than 6 percent.
Storyboard
Genius began in 2006 as Pacific Entertainment Corp., a brand licensing company founded by the creators of Baby Genius, a line of CDs and DVDs aimed at stimulating children's development, to reach new demographics.
Co-founders Larry and Howard Balaban, Klaus Moeller, and Mike Meader took the company public in 2009. It changed its name to Genius Brands International Inc. in 2011, saying it was ready to enter a new level of growth.
But after revenue fell from $4.3 million in the first nine months of 2012 to $1.6 million over the same time period in 2013, the company announced it would merge with A Squared, a media company Heyward formed with his wife, Amy Moynihan Heyward, at the end of 2013. The deal paid off Genius' $1.5 million in debt and Heyward took over as chief executive.
Heyward brought with him experience he gained while producing kid shows including "Strawberry Shortcake" and "Care Bears" at DiC Entertainment.
He co-founded the North American branch of DiC, a French media company, in 1983. In 1993, DiC formed a limited partnership with Capital Cities/ABC Inc., which was then acquired by Walt Disney Co. for $19 billion two years later. Heyward bought DiC back from Disney with backing from Bain Capital Inc. in 2000.
Terms of the deal weren't disclosed, but a press release at the time noted that the transaction gave DiC the second-largest library of American animation in the world. In 2008, Cookie Jar Group bought the company in a transaction valued at almost $88 million.
Now ensconced at Genius, Heyward has shifted the company's emphasis from selling CDs and DVDs to streaming. He also brought along several children's shows created in collaboration with celebrities, including "Warren Buffett's Secret Millionaire's Club," a cartoon in which an animated Warren Buffett teaches financial lessons to a group of kids. Heyward got to know Buffett, who collaborates on the content and voices his character, while producing animated videos for the annual Berkshire Hathaway Inc. conference.
"What's unique about Genius is Andy's history and background," said Peter Wachtel, the founder of Kid Toyology Design who developed a game for "Secret Millionaire's Club." "The TV and webisodes set them apart. He knows how to create really good, rich content and understands the medium and the market."
"Secret Millionaire's Club," now part of Genius' portfolio, exemplifies the kind of educational programming that makes the company stand out in an increasingly crowded field, said Heyward.
"We have a different profile than Disney, which is entertainment," he said. "We're entertainment and enrichment. We're not empty calories. That's the point of differentiation that's driving our growth."
Still, things have progressed slowly on the revenue front.
Genius reported revenue of more than $120,000 for the quarter ended Sept. 30, compared with less than $281,000 from the same period a year earlier. Of that, almost $85,700 came from licensing and royalties and more than $34,000 from television and home entertainment. The company reported a net loss of more than $1.53 million, compared with a loss of less than $798,000 for the same period the previous year.
Despite the weak performance, its share price has surged more than 60 percent over the course of the last year, closing Jan. 11 at $4.91, up from $3 a year earlier. It's market cap stands at just under $20 million.
Toy revenue
Last summer, Genius debuted "SpacePOP," a series of four-minute webisodes featuring five teenage princesses disguised as a rock band trying to save the universe from an evil empress. The program was backed by the release of toys based on the characters that came out during the winter and landed in the "Hot and New" section of Toys R Us Inc. stores.
Toys R Us spokeswoman Meghan Sowa said the company decided to sell the toys because of the webisodes.
"We recognize that kids and tweens in particular continuously look to experience their favorite digital content in various ways," Sowa said.
Although Toys R Us and Genius declined to provide sales numbers, Heyward said early indications are that the "SpacePOP" merchandise is selling well.
A little more than half of Genius' revenue for the nine months ended Sept. 30, or almost $350,000, came from licensing and royalties, according to the company's latest earnings report. Just over $285,000 came from TV and home entertainment.
For companies such as Genius, the video content can spur sales of merchandise and vice versa.
"The fact is when kids watch a movie, like 'Minions,' they fall in love with the character and want to experience them in a physical sense," said Juli Lennett, toys industry analyst with market research firm NPD Group.
And when a child buys a branded toy, the packaging directs them to the show, which they might not find otherwise, said Kid Toyology's Wachtel.
While developing its content, Genius talks to the chains that sell its branded products, Target, Toys R Us, Wal-Mart, Kohl's, among them, to help identify areas of opportunity in the children's market.
New landscape
Loesch's almost 40 years of experience producing children's programs could provide the company with some insights as well. She cut her teeth at Hanna-Barbera Productions, where she started working in 1970, overseeing production of "Smurfs" and "Scooby-Doo" TV series. In 1984, she became chief executive of Marvel Productions, where she produced shows including "My Little Pony 'n Friends." She took over the then-new children's TV programming block Fox Kids in 1990 as chief executive.
After Saban Entertainment acquired a 50 percent stake in Fox Kids in 1996, the company became known as Fox Kids Worldwide Inc. and then Fox Family Worldwide.
As other networks, including Nickelodeon, stepped up their children's content, Fox's market share began to slide. Disney bought Fox Family Worldwide for more than $3 billion and the assumption of $2.3 billion in debt in 2001.
Loesch's last gig before joining Genius was as chief executive of the Hub Network, a joint TV venture between Discovery Communications Inc. and Hasbro Inc.
Heyward pointed to the Fox Family Worldwide sale as an example of what Loesch brings to Genius.
Her hiring came a month after Genius signed a deal with Future Today Inc., a multiplatform distribution company in New York, to expand its reach to 42 million households through platforms including Roku and Apple TV. Previously, the company reached 22 million households through Comcast Xfinity On Demand.
Edit: A story in the Jan. 16 issue headlined "Kids in Play," drawing information from Bloomberg, incorrectly identified Blackrock Inc. as a shareholder in Genius Brands International. It is not. Information on the Genius website was also incorrect. Revenue fell to $1.6 million in the first nine months of 2013 from $4.3 million in the same period a year earlier.
For reprint and licensing requests for this article, CLICK HERE.