Pot Consultant Builds on Buzz
Friday, January 6, 2017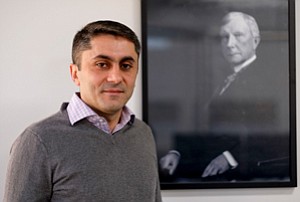 Californians hit the polls to legalize recreational marijuana in November, and one of the first places to feel the buzz was Glendale cannabis consulting and management firm Siva Enterprises Inc.
"After the elections, the phone has not stopped ringing," said Avis Bulbulyan, Siva's chief executive. "We were getting emails and inquiries for licensing at midnight the night of the elections."
The boost in business has Bulbulyan looking to grow aggressively. He moved the company into a new headquarters last month and has plans to hire up to 24 additional employees. The firm has also launched an incubator for cannabis startups.
The company has made a name for itself helping businesses around the country successfully receive state and local licenses. It has also worked with government officials to help draft state and local marijuana regulations.
But as more cities in California begin to pass ordinances allowing for marijuana cultivation and dispensary operations, competition for new business will increase for consulting outfits such as Siva, which are vying to attract clients willing to pay as much as $1 million for help in gaining a coveted license.
Jeffrey Welsh, a partner at Frontera Law Group in Sherman Oaks, said he expects traditional consulting companies to eventually launch cannabis practices, but his prediction is that "first movers" such as Siva will have an advantage in an industry that's still anti-establishment.
"Once it does become completely legal, we're going to see a flood of traditional service providers, law firms, and consulting firms," he said. "But again, it's hard to train up and get that cannabis expertise unless they acquire an existing cannabis firm or take talented people from these groups."
Nevertheless, demand should be high, he added, as firms will need help wading through dense and often contradictory regulations imposed by each municipality.
"Everything is in flux," Welsh said. "To have a legal understanding of what's going on is really important, because these clients are sinking five or six figures into these projects."
Learning curve
Bulbulyan founded Siva, formerly known as Bulbulyan Consulting Group, in 2007 after working as an auto theft investigator and compliance expert for insurance agencies.
Prior to launching Siva, a friend approached Bulbulyan for help with his pot dispensary figuring his legal and insurance background would come in handy in making sure the store was compliant. At about the same time, Bulbulyan said, his doctor had prescribed him a synthetic version of tetrahydrocannabinol, the main mind-altering chemical in cannabis, but he was experiencing adverse side effects.
"I'm like, OK, all these stars are lining up too perfectly. Let me understand this industry," he said.
Siva initially helped collectives throughout Southern California streamline retail and manufacturing operations – overseeing a total of 52,000 square feet of cultivation operations and six dispensaries.
But the business took a new direction when it helped Medical Marijuana of Massachusetts, a Boston nonprofit led by former Massachusetts Rep. Bill Delahunt, land three of 20 licenses issued by the state – the maximum number allowed for a single operator.
Bulbulyan said the firm's learning curve was steep in those days as it had never helped a client attain a license.
"We didn't have half the resources that companies have right now," he said. "Back then you didn't have consulting companies teaching people how to go through the (licensing) process, how to grow, and how to run an efficient business."
The firm has helped clients land multiple licenses in states such as Nevada, Illinois, and, most recently, Maryland.
The average license application can be as long as 3,000 pages – detailing everything from equipment used to financial models – and take a year to put together.
"You have to give the city and state a full understanding of your business," he said. "You're basically giving them a blueprint to running your operation."
Clients can either be on retainer or pay hourly depending on their need. For example, some clients will ask Siva to handle the entire application process and the firm will charge them a flat fee, or a client might just need Siva to review their existing application, for which they are charged hourly.
Bulbulyan noted there's no guarantee a firm will win a license, which is why Siva only takes on a handful of clients – those it feels has the best chance of winning.
Full bloom
Siva has expanded its services over the past four years to include product development – a task that can involve helping operators develop edibles – to finding investors following strong client demand.
The firm also launched an incubator program last year and is working with eight companies to develop product lines and pitch concepts to private equity firms and individual investors.
Frontera's Welsh said having a good rapport with those in the industry is key for a cannabis consulting firm.
"It's not the type of industry where you can just walk into a dispensary, give them your business card, and say, I can get you your license." Welsh said. "(Operators) want a referral from someone in the industry … because it's so nuanced and complex."
Bulbulyan said many California businesses are unprepared when it comes to the state licensing process. Proposition 64's passage has likely added even more confusion as cities decide what types of cannabis operations – if any – to allow within their borders.
"A lot of operators in California don't have a true understanding of what's about to come," he said. "They're not taking into consideration tax liabilities, compliance issues, regulatory issues, (and) some are going to get into issues with packaging requirements."
For reprint and licensing requests for this article, CLICK HERE.