Solar Umbrellas Take Charge at Coffee Chain
ENERGY: Deal plugs Zon's power invention at shops.
Friday, February 17, 2017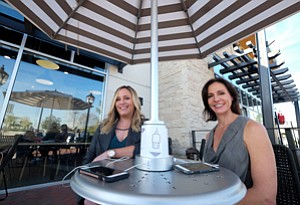 Solar power tech company Zon Inc. is boosting its exposure with a deal to put its phone-charging umbrellas into 40 Coffee Bean & Tea Leaf locations.
The international coffee chain is installing Zon's Powersol, a solar-powered umbrella that charges up to three mobile devices at a time through USB ports, at its corporate-owned locations in a Southern California pilot program that is part of a rebranding effort.
The deal announced last month for 50 Powersols is the largest rollout at one time for Zon, which has seven employees and began production in 2014. The El Segundo company said it has sold more than 2,000 of its umbrellas, priced at $2,000 to $3,000 each, to about 300 clients, including universities, hotels, and corporations.
The Powersol, which uses solar panels on a canopy and a battery to charge three USB devices as quickly as a wall outlet, is a sustainable solution to a world where people are tethered to their devices, said Sarah Akin, founder and chief creative officer.
"Schools want it because they see students fighting for plugs," said Akin, 43. "Hotels want their guests to have a pleasant experience. To be able to sit outside and work and have your lunch is great."
The company lists resorts and universities among its biggest buyers, and some of its most notable customers include Marriott International Inc., UCLA, USC, and Google. Zon, which also generates revenue from licensing and distribution deals, declined to provide any revenue figures.
Akin's business was introduced to Tim Welsh, vice president of development at Coffee Bean & Tea Leaf, owned by International Coffee & Tea, through a mutual acquaintance. The Starbucks Corp. competitor, which began as an office coffee supplier in 1963, has been trying to update its brand and has spent the past year doing focus groups to home in on what to improve, he said. The Powersol fit in with that effort.
"One of the biggest complaints was that people wanted better Wi-Fi and more charging stations," Welsh said. "Coffee stores are a … place to work and hang out, like an office, or to do homework."
As part of its brand makeover, the Miracle Mile-based company wanted to focus on its Southern California heritage, which it associates with being sunny and happy. Coffee Bean was able to customize the design of the Zon umbrellas with stripes in a way that fit its brand, he said.
Prev Next
For reprint and licensing requests for this article, CLICK HERE.