Mansion's $250 Million Listing Priced to Light Fire Under Bids
Launching Pad
Friday, February 10, 2017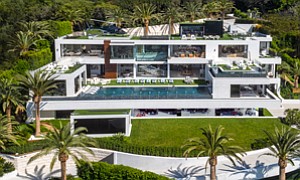 The car collection is real, the $200,000 candy room is real, the views are real.
The helicopter, not so much.
Whether those amenities help developer Bruce Makowsky reach the $250 million asking price for his sprawling Bel Air spec house might not matter. Unlike the flightless helicopter he perched on the property, the whopping price tag has already served an important function: drawing international attention to the 12-bedroom, 21-bathroom manse.
If the home actually fetches its asking price, it would become the most expensive dwelling in the United States.
"There are probably only 3,000 people in the world who can afford the home," Makowsky said. "The air is very thin up there."
But will he get the asking price?
"I have no idea," he said last week. "It's only been seven days."
It might not matter.
With very little in the way of comparison for homes at the highest end of the market, asking prices for these types of megamansions are part of an elaborate game of one-upmanship, with prices acting more as suggestions rather than valuations, local brokers said.
"It's not uncommon for places in that pricing to go 30, 40, or 50 percent (less than) what you're asking," said Michael Nourmand, president of Nourmand & Associates. "I do think that part of the pricing strategy was to be the most expensive house, to call attention to it."
Eric Sussman, a real estate professor at UCLA, said it takes "outlandish, unusual, attention-grabbing" tactics to generate buzz these days.
"(Makowsky) staged it with a helicopter on a house," said Sussman. "You can't fly a helicopter in a residential neighborhood. It's a reality television show, like everything else now."
While it's not uncommon for pricey homes to be sold in off-market transactions, agent Ann Dashiell of Beverly Hills' Douglas Elliman said marketing splashy properties helps attract buyers from all over the world.
"It's important to be able to reach qualified international buyers as far away as China," said Dashiell, who was the listing agent for Holmby Hills' Owlwood, an estate once owned by Cher and Sonny Bono that sold for $90 million in September after listing for $150 million.
Indeed, the listing for Makowsky's home has generated attention not just across the United States, but in the United Kingdom, Australia, and elsewhere.
Ocean inspiration
Makowsky said he was inspired to build the Bel Air Road mansion after spending time on $150 million to $300 million megayachts. He said he built the home for a billionaire looking for the level of service and overwhelming experience of enjoying life found on such crafts.
Prev Next
For reprint and licensing requests for this article, CLICK HERE.