Hyperloop Firm Arrives
TRANSPORTATION: Exec at center of recent lawsuit launches new tube venture.
Friday, February 10, 2017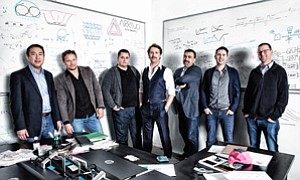 Brogan BamBrogan is starting his second hyperloop company, named Arrivo, just months after leaving and settling a lawsuit against the company he founded, Hyperloop One.
A former Space Exploration Technology Corp. (SpaceX) engineer and chief technology officer of Hyperloop One, BamBrogan will serve as chief executive of the new downtown company. Arrivo, which means "arrival" in Italian, has seven co-founders including BamBrogan and the three former Hyperloop One executives who joined him in suing that company: David Pendergast, its former assistant general counsel; William Mulholland, former vice president for finance; and Knut Sauer, former vice president for business development. The other co-founders include Nima Bahrami, a former mechanical engineer at Hyperloop One; Jadon Smith, an ex-SpaceX engineer; and Andrew Liu, another engineer who joins from Aecom.
Hyperloop technology is a vacuum tube transportation system some believe could whisk passengers along great distances at speeds far faster than airliners or bullet trains. Los Angeles has become a hotbed of hyperloop startups since the idea was put forth by SpaceX founder and Chief Executive Elon Musk in a 2013 white paper. In addition to Hyperloop One, the area is also home to Hyperloop Transportation Technologies of Playa Vista.
After leaving Hyperloop One in July, BamBrogan accused his former company's leadership of harassment, financial mismanagement, and wrongful termination. He settled with Hyperloop One for an undisclosed amount in November.
"We believe so deeply in the hyperloop concept that we were truly compelled to get back in the game," he said in an email.
Arrivo has raised an undisclosed amount of funding, and the firm is aiming to have more than 30 employees by June, with 70 to 80 employees hired by year-end, according to a press release.
BamBrogan said Los Angeles was chosen as the company's headquarters because of the amount of engineering talent and innovation in the region. Arrivo has several projects and partnerships moving forward, according to the press release, and is on track to establish two test sites, one of which will be in the United States. The company is aiming to have operational revenue-generating projects within three years.
"We're (sic) definitely have some great opportunities in the U.S. as well as around the world," BamBrogan continued, in the email. "These are both for cargo and for passengers."
For reprint and licensing requests for this article, CLICK HERE.