Sports Titans Profile: Peter Guber
'It's the beginning of the beginning'
Friday, December 29, 2017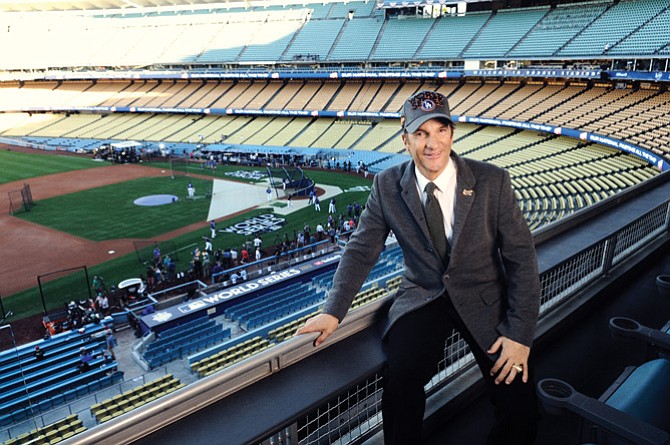 Peter Guber was there in '88. Dodger Stadium, Game 1 of the World Series, Los Angeles Dodgers vs. the Oakland Athletics.
Well, he was there for most of it.
Guber had made it to the parking lot by the time Kirk Gibson came to bat in the bottom of the ninth with the Dodgers down 4-3.
"The team wasn't playing that well, so I decided to go home in the eighth inning," he recalled. "I came out of my seat and I'm in the parking lot and I hear this noise I've never heard in my life before – it was like air being sucked in and air being sucked out in the same moment. It was like, 'Oh, my God, what is that?' Kirk Gibson hit the home run and I'd missed it. I missed it."
Guber, an Oscar-winning film producer, sports team owner, former music company executive, has had lots of hits and misses in his career.
This one left a mark.
"I'd come all that way to see some event and realized that I'd left in the last half of the third act, thinking they weren't going to do it, that somehow the last half of the third act wasn't as important as the first act," he said.
His early exit before Gibson's historic blast helped shape his view of sports –and of business in general.
"The audience was so famous in Los Angeles then for coming the movies late, coming to the Lakers games late or leaving early, and I began to realize that the last three outs of the game are as important as the first three. And now, if someone says, 'It's really time to leave,' I say, 'Maybe, maybe not.'
"I have a more leavened attitude toward feeling the pain of failure. Failure is my lesson now. I believe if you're not failing enough it means you're not trying enough, it means you're going to be ordinary."
Guber has failed – often – and is by no means ordinary.
Ups and downs
He moved to Los Angeles in 1968 to join the production and studio operations at Columbia Pictures. Three years later, at 31, he was the studio's vice president of worldwide production. He moved on quickly, setting up his own production company two years later and then forming Casablanca Record and Filmworks Inc. in 1976. He then formed PolyGram Entertainment and co-founded Guber-Peters Entertainment Co., with Jon Peters,
The pair produced "Flashdance," "The Color Purple," "The Witches of Eastwick," and "Rain Man," for which he won an Academy Award.
When Sony Corp. bought Columbia, where Guber-Peters was set up, for $4.8 billion in 1989, it also acquired Guber-Peters for $200 million. Guber left Sony within five years, just as the studio announced a write-down of $3.2 billion.
But a seed had been planted.
While at Sony, Guber tried to buy a package that included cable network Prime Ticket, the Los Angeles Kings, a stake in the Los Angeles Lakers and the Forum in Inglewood. That deal didn't pan out, and he missed on attempts to buy into the Lakers, Dodgers, Miami Heat and the A's before getting a collection of minor league baseball franchises in partnership with Earvin "Magic" Johnson.
Those have since been sold off – some at record prices.
But Guber's first home run came with the 2010 purchase with Joe Lacob and other investors of the Golden State Warriors for $450 million.
The team has appeared in the last three NBA finals, winning twice, and is now valued by Forbes at $2.6 billion.
Perhaps the same trajectory is in store for the Dodgers. Johnson and Guber joined Guggenheim Partners in buying the team in 2011, and became the public faces of the ownership group that paid $2 billion.
Playing nice
One of the hallmarks of Guber's time as a partner in the Warriors has been the team's aggressive courtship of its fans, particularly through enhanced in-game experiences.
"I've come to the conclusion that you've got to be a fisherman, not a catcherman," Guber said. "You've always got to be fishing for new ideas and ways to engage your audience."
That means understanding how his "competitors" run their operations.
"Someone said to me, 'What do you mean you're talking to the people at the Miami Heat about this?' They talk to me all the time. They don't keep any secrets about their concessions or their food or their seating or their entry or security. They want us to succeed because we're all part of the collective called the NBA. They'll beat your brains in on the floor, but sure they'll tell you how to deal with security. So, you've got 32 beta operations going on. I find that to be part of the collective value of these businesses."
Showtime
Guber is in his '70s, and completely conversant with terms such as "beta operations" and has fully embraced technology as a way to enhance the in-stadium experience.
"This isn't the end; this isn't the middle; it's not even the beginning. It's the beginning of the beginning," he said of the impact of tech on how sports entertainment is consumed.
"You have to remember, they come to the stadium addicted to this," he said, grabbing an iPhone. "So, when you consider that you want to feed them what they crave and can use and is purposeful and meaningful, this is the tool to do that."
Guber also is a partner with Johnson and a host of other sports, entertainment and business celebrities in the new Los Angeles Football Club, which is working closely with Google Inc. to maximize the digital experience at the team's home, Banc of California Stadium, now under construction in Exposition Park.
"We'll be able to geolocate the players, to access analysis and statistics in real time as events happen," he said.
"This isn't the transaction business; it's the relationship business and you're building a relationship with that fan so their experience is unique," he said. "They build their own experience. That's what you want to get to. At the end of the day, all the digital zeros and ones won't get you there. You still need the oohs and ahhs.
For reprint and licensing requests for this article, CLICK HERE.