Sports Titans Profile: Marc Merrill and Brandon Beck
One-Time USC Roommates Shake World of Sports
Friday, December 29, 2017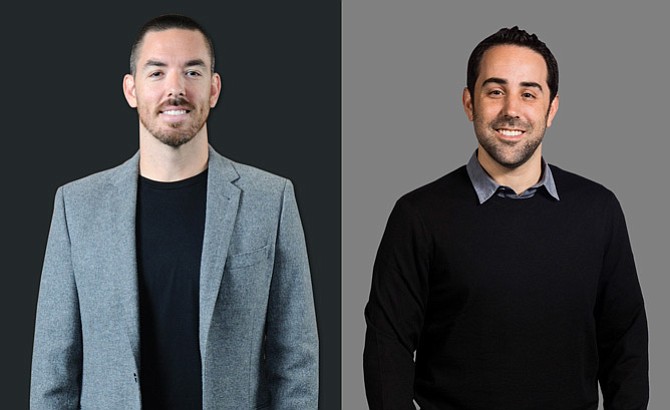 Think of Staples Center and there's a good chance that the sweaty intensity of a Taylor Swift concert, the quickness and athleticism of a Los Angeles Kings ice hockey game or the solemn passion of Kobe Bryant's recent numbers retirement ceremony will take center stage in your mind.
Now make room for tens of thousands of cheering fans filling the venerable arena to watch young athletes with world-class hand-eye coordination playing a video game.
Welcome to League of Legends, an e-sports game and tournament known colloquially as "LoL" and sponsored by the West L.A.-based Riot Games, led by onetime USC roommates Brandon Beck and Marc Merrill.
The two are a long way from campus.
Los Angeles has become one of e-sports major hubs, and Beck and Merrill have been at this phenomenon's epicenter since its early days.
"L.A., as it relates to e-sports, not only has a lot of fans, but also it happens to be home to a bunch of professional players and a couple of leagues," Beck said.
Playing video games is no longer limited to status hobby or derided as an escape. It's grown into a full-on passion among hundreds of millions of competitors and fans the world over – and there now is serious money involved.
The Samsung Galaxy – a team of eight or so sponsored by the eponymous South Korea-based consumer electronics brand – won the 2017 League of Legends annual tourney, taking nearly $1.9 million in prize money.
LoL's Mid-Season Invitational snagged about 360 million unique viewers, more than tripling the Super Bowl's audience online, according to the league's official website.
Like it or not, baffled or bewildered, it's time to realize that e-sports – or competitive gaming – is growing increasingly important as part of Southern California's sporting scene.
L.A. epicenter
Consider that Riot Games parent – China-based Tencent Holdings Ltd. – counts the brand among a portfolio that produces more than $22 billion in annual revenue and includes globally-known entities such as .
More people watch gaming video worldwide than use Netflix, ESPN, Hulu or HBO combined, an August 2017 SuperData Research study estimated.
Amazon.com Inc.'s Twitch, a streaming video site that focuses on gaming, has a larger audience (185 million) than channels such as ESPN (90 million).
Total worldwide viewers of gaming video content is expected to grow 22 percent to 743 million in 2019 from 609 million in 2016, SuperData said.
The growth of Silicon Beach, meanwhile, has boosted Los Angeles as a center of the tech that underlies e-sports.
Los Angeles and Orange counties produced more than 33,000 new tech jobs between 2011 and 2016, according to a study by commercial real estate brokerage CBRE, the seventh-best growth among the nation's major tech hubs.
That's been a key for Riot Games, according to Merrill, who said Los Angeles' long history as a haven for creative types works to its advantage.
The city is "an incredible creative hub, and I think one of the anchors for e-sports here is the fact that it is a very prolific city in terms of the concentration of videogame developers," he said.
In addition to Riot Games, the greater Los Angeles area is home to companies such as Blizzard Entertainment in Irvine, a unit of Santa Monica-based Activision Blizzard Inc. and creator of the popular "Warcraft" series; Dice Los Angeles in Playa Vista, a subsidiary of Electronic Arts Inc. of Redwood City; and the Woodland Hills-based Infinity Ward, another Activision property.
Some of the city's heavy hitters in terms of money and influence also are getting involved, including biotech entrepreneur Patrick Soon-Shiong, who topped the Business Journal's 2017 List of Wealthiest Angelenos. Then there's basketball Hall of Famer Earvin "Magic" Johnson, fellow Lakers luminaries Shaquille O'Neal and Rick Fox; A-list actress Jennifer Lopez; and Los Angeles Rams owner Stan Kroenke, who owns the L.A. Gladiators, who compete in the Overwatch League, organized by Blizzard.
Competition coming
Rival leagues is one reason Riot Games isn't resting on its laurels. There are 13 Riot Games-sanctioned leagues around the world, with the United States, Canada, China and South Korea among the locations.
"Our approach from day one has been to develop an ecosystem that helps team owners and teams thrive and build viable business and build viable brands," Merrill said.
Beck and Merrill cite the growth of streaming as being a key factor behind the explosion of e-sports' popularity. The ability to stream LoL games on a variety of devices, including personal computers or smartphones, made it easier for the casual fan to watch.
Innovations such as the League Championship Series – with games played in Los Angeles and Berlin – also have boosted Riot Games' popularity and viewership.
"We have players and fans who know who the teams are, know when they are playing," Merrill said. "There are repeatable time slots so they can build relationships with the franchises, with the players. They know they have a story and that's a bit of a novel innovation over the last couple of years."
One point of difference LoL has over competitors is its longevity and visibility – it was first released in 2009 – in an overcrowded e-sports marketplace that features thousands of competitions. The structure Riot Games gives the game makes it easier for casual fans to digest and more attractive for advertisers.
Fans of more traditional games might scratch their heads at the concept of video games being a spectator sport, but the popularity of e-sports cannot be disputed.
The question of what is and isn't a sport, in some ways, is irrelevant.
"We don't care to engage in that debate, honestly, because it's really hard to define what is and isn't a sport," Beck said. "At the end of the day if fans are loud and love it and passionate and engaged, who cares?"
This story is based in part on an interview by Jonathan Diamond
For reprint and licensing requests for this article, CLICK HERE.