LA BioMed Eyes Torrance Campus
Friday, December 29, 2017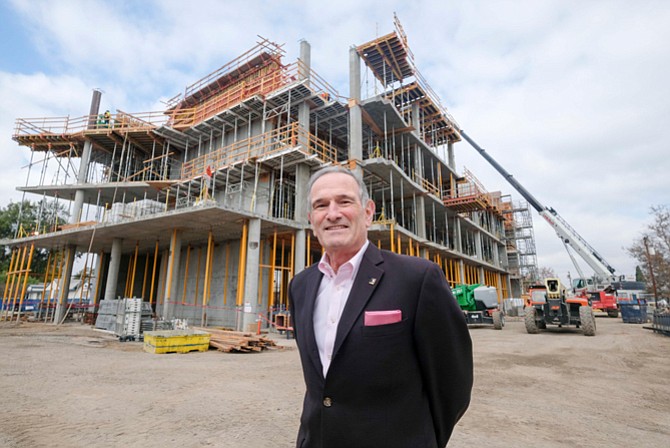 LA BioMed, an independent biomedical research institute linked to Harbor-UCLA Medical Center, could win approval this month to build a 15-acre biotechnology park to house spin-off firms.
The nonprofit research facility in Torrance has been working since April to win an exclusive agreement with Los Angeles County to add at least 250,000 square feet of research and development space to the campus, officials said.
The Los Angeles County Board of Supervisors is expected to vote later this month on whether to give the project a green light.
The project is estimated to cost $200 million and proponents said it would be the latest initiative to boost the region's biotech industry. It would be designed and built by a private developer and include four buildings from 60,000 to 80,000 square feet to be built between 2020 and 2032.
"The future of L.A. biotech starts here," said David Meyer, chief executive of LA BioMed. "We have everything you need – the medical center, the research institute, the incubator and the tech park, all on 72 acres. There's nothing missing. It's going to be a model for the entire county."
The Los Angeles Biomedical Research Institute, as it is formally known, would expand its footprint to nearly 40 percent of the Harbor-UCLA campus with the project. The expansion is part of a county plan to create five bioscience clusters across the region.
The initiative, based on two recent studies on how to foster continued growth for the $40 billion biotech industry in Los Angeles County, aims to create business ecosystems that support and retain biotech innovators. Priorities include providing access to laboratory space and venture capital for startup companies headquartered everywhere from northeast Los Angeles to the South Bay, county officials said.
The proposed biotech park at the LA BioMed and Harbor-UCLA campus would do just that, local biotech boosters said.
"It has the potential to create a true hub for the life sciences in and around Torrance and the South Bay," said Ahmed Enany, chief executive of the Southern California Biomedical Council, a local industry advocacy group. "If it gets established, it will help anchor these companies and keep them in Los Angeles. It would be a milestone for the entire region."
Campus makeover
LA BioMed's facility next to Harbor-UCLA has 900 employees currently, including physician researchers affiliated with the UCLA David Geffen School of Medicine. The nonprofit has a $75 million annual budget and receives a third of its revenue from federal research grants. Federal grants increased this year by 25 percent, according to the institute.
More than 600 research projects are underway at five research labs as well as facilities run out of barracks left over from when the campus was a U.S. Army hospital during World War II.
The campus is already being remade with a $67 million research pavilion project now under construction, which includes an 18,000-square-foot incubator for up to two dozen companies financed by a $3 million grant from the county and a $3 million donation by philanthropists Richard and Melanie Lundquist, owners of Continental Development Corp. of El Segundo.
The new four-story laboratory wrapped in glass broke ground in April and is expected to be completed in early 2019.
The addition being considered by the Board of Supervisors would combine clinical care from a public teaching hospital; research from one of the largest independent biomedical institutes in the U.S.; and an incubator system designed to support new biomedical products, spin-off firms and support early stage biotech companies.
"For the past 65 years, LA BioMed has been a leading biomedical research institution in Los Angeles County," said county Supervisor Mark Ridley-Thomas, a major backer of the biotech initiative, in a statement. "As we look to the future, we see LA BioMed leading advancements in healthcare that will save lives."
Deep impact
LA Biomed is among the nation's largest independent biomedical research institutes. It started in 1952, and has been a pioneer in the use of paramedic emergency response, nurse practitioners and the field of neonatology. It also invented inexpensive eye drops to prevent blindness in children; was an early leader in developing screenings for cholesterol, Tay-Sachs disease and thyroid deficiency in newborns; and made a discovery that helped pave the way for in vitro fertilization treatments.
LA BioMed has launched 11 spin-off companies in the past decade, including outfits producing drugs and medical devices that range from noninvasive ways to detect breast cancer to the wireless cardiac monitoring of infants.

Such firms include Kythera Biopharmaceuticals Inc., which produced an injectable treatment for double chins; NovaDigm Therapeutics Inc., which developed a vaccine to combat hospital acquired infections; and Emmaus Life Sciences Inc.
Revenues from the technologies patented by LA BioMed now return between $15 million and $18 million in royalties a year, Meyer said. In the past five years, it has been awarded 75 patents, with 190 patent applications pending.
"If someone makes a discovery, we are agile, nimble and entrepreneurial," said Meyer, a cellular microbiologist at the helm at LA BioMed since 2009. "If you have a discovery that we think is viable, we can file a provisional patent within 24 hours … to start up a company in a week."
For reprint and licensing requests for this article, CLICK HERE.