Human Resources, Staffing & Employment: Competitive Recruitment – Hiring Foreign Nationals
Custom Content by the Los Angeles Business Journal
Tuesday, December 19, 2017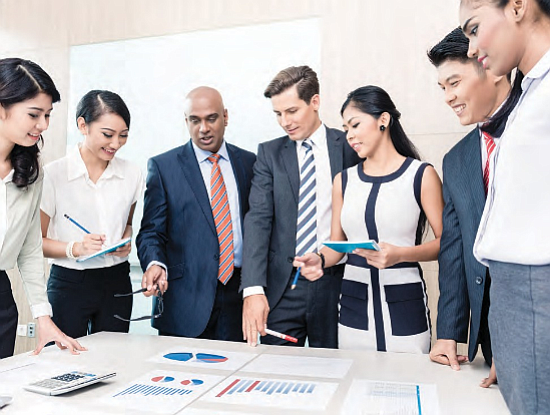 Today's HR leaders face unprecedented recruiting challenges. Talent acquisition teams are tasked with finding exceptional candidates who are not readily available in the domestic labor pool. To meet expectations, many U.S. companies look to the global labor pool to meet the challenge of finding the right employees for hard-to-fill positions.
With global recruitment, it is critical to create a sustainable foreign talent pipeline. To this end, U.S. universities can offer a tremendously diverse pool of international talent. U.S. companies that build strong relationships with universities have a competitive advantage; universities can help validate companies as choice employers, especially emerging and growing companies that must continue to build their presence and reputation.
Still, the increasing demand for work visas combined with tightening regulations on immigration has created a more intense environment for attracting and retaining foreign talent. It is more important than ever for companies to understand how to navigate the current immigration environment in order to hire the best talent and help their companies maintain a competitive edge.
THE H-1B "CAP" – EARLY PREPARATION IS KEY
With U.S. universities providing the pool of international talent, the H-1B visa is the most common route for hiring and retention. The H-1B program allows employers to hire foreign workers in "specialty occupations," which are those that require at least a bachelor's degree or its equivalent.
On April 1, 2018, USCIS will begin accepting H-1B petitions for an employment start date of October 1, 2018, when the next fiscal year begins. Currently, USCIS limits the number of H-1B visas that are granted each year to 85,000, with 20,000 of those visas reserved for individuals who possess a U.S. Master's or higher degree. If USCIS receives more than 85,000 petitions during the first five business days of April, a lottery system is used to randomly select petitions to be accepted and processed.
H-1B Cap "season" is the time of year leading up to the April 1 deadline when employers identify candidates and prepare their H-1B visa petitions. It is important to start this process as early as possible, with most companies starting in December or early January. This group of H-1B Cap cases typically includes F-1 foreign students employed pursuant to Optional Practical Training, as well as employees in H-4, TN, L 1B and other visa categories.
STARTING PERMANENT RESIDENCE EARLIER – THE EARLY BIRD GETS THE WORM
Because most non-immigrant work visas have strict time limits, companies that hire foreign talent can only keep those employees long-term if they sponsor them for a green card. Many companies start the permanent residence process for their employees after 12 or even 24 months of employment. This helps to ensure that the employee is committed to the company and worth the costly and time-consuming investment. Despite this, companies that are strategic and invest resources up front can reap major dividends down the road.
Due to significant initial investment, beginning the permanent residence process upon hire is often the road less traveled by employers. However, this approach can eliminate the resources required to file additional H-1B petitions for employees not selected in the lottery in fiscal years that follow. This strategy not only saves resources for the employer, but puts employees in the best position for long-term employment. In fact, in some industries, starting green card sponsorship on (or before) the first day of employment is the norm, and companies in these industries simply cannot compete for talent if they don't offer immediate green card sponsorship during recruitment.
For employees not impacted by the immigrant visa quota, employers who begin the PERM Labor Certification application process in parallel with the H-1B process may receive approved Labor Certifications even as H-1B results are received. If the employee is selected in the H-1B lottery, work authorization is available while the company navigates the permanent residence process. If the employee is not selected in the H-1B lottery, the company can still proceed with the permanent residence process by filing an immigrant petition and green card application. While the green card application is pending, the employee will receive an employment authorization document as an interim benefit. Here, the employee can look forward to long-term employment, eliminating the need for employers to file a second or even third H-1B extension petition.
As HR leaders work through the challenges of finding, attracting, and retaining foreign talent, they will find that early action can be the most effective strategy. In immigration, as in other areas, the old saying still holds true – the early bird gets the worm.
Amy Ho is an Associate in Fragomen's Los Angeles office. She provides counsel in all aspects of corporate immigration. Her current practice includes work visa and green card processes for employers of all sizes. Amy can be contacted at aho@fragomen.com.
Michael Boshnaick is a Partner in Fragomen's Los Angeles office. He represents large multinational companies as well as individual clients, startup companies, and small to midsize companies on U.S. immigration matters. Michael partners with corporate clients to provide strategic counsel on all matters involving U.S. immigration and nationality law, as well as policy and compliance, to manage immigration programs. He guides corporate clients on immigration aspects of mergers, acquisitions, divestitures, outsourcing and corporate restructuring, as well as I-9 employer sanctions matters. Michael can be contacted at mboshnaick@fragomen.com.
For reprint and licensing requests for this article, CLICK HERE.